Onitsha Ofala Festival has received an award of excellence in culture from the Nigerian government for its contributions to the development and preservation of nation's cultural heritage.

The announcement came through a statement made available to Prime Business Africa, on Wednesday by the Ofala Festival  Steering Committee.

According to the statement, the award was presented to the Obi of Onitsha, Nnaemeka Achebe,during the United Nations World Tourism Organisation (UNWTO) global conference in Lagos.
It added that Lai Mohammed, the Minister of Information and Culture, as well as Zurab Pololikashvili, Secretary-general of the UNWTO, presented the award to the monarch.

The Ofala is a yearly cultural festival marked by the Obi of Onitsha in Anambra State. It is a celebration of the monarch's annual emergence from seclusion, a period when he negotiates the fortunes of the kingdom.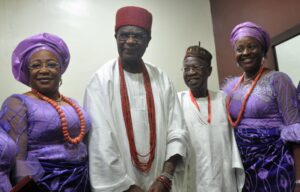 It is usually characterised by several activities such as display of royal dances, tributes, parades and music.

Speaking on the award, the monarch appreciated the people of Onitsha, the federal government and the UNWTO.

"This recognition added to the endorsement of the Ofala by the Nigerian Tourism Development Corporation (NTDC) as a major Nigerian festival, has further enhanced our goals of attracting considerable national, west African, and international attention to the Ofala and getting the festival to attain the status of a major event in the Nigerian, and by extension in the West African cultural/tourism calendar," Achebe said.

The Obi said the recognition would further help in promoting the festival to a global audience.

"This honour will serve as a boost to our plans of bringing the world to Onitsha to experience our rich cultural heritage and enhance the growth and development of our community," he said.

He added that in addition to its traditional and ritual obligation, the festival has broadened its scope to include other activities such as an international art exhibition (Oreze), a youths' carnival (Ofala Carnival), and a marathon (Onitsha City Marathon).