THE National Broadcasting Commission (NBC) has issued query to Channels Television over an interview with the governor of Benue state, Samuel Ortom.
In a letter titled "NOTICE OF INFRACTION" signed by its director-general, Balarabe Ilelah, and dated August 24, the NBC said Channels TV violated six of its codes during the broadcast of the interview.
The NBC said the comments of the governor were "divisive, inciting and unfair", adding that Channels TV anchors did not "thoroughly interrogate" Ortom.
The commission asked Channels TV to, within 24 hours of receiving its letter, explain why it should not be sanctioned.
The letter read, "The National Broadcasting Commission monitored the broadcast of your program Sunrise Daily between 7 a.m. and 9 a.m. on Tuesday. The programme which had as guest the executive governor of Benue state governor Samuel Ortom was observed to contain inciting divisive and unfair comments which were not thoroughly interrogated by the anchors.
"This negates the following provisions of the Nigeria broadcasting code. Consequently, Channels Television is required to explain why appropriate sanctions should not be applied for these infractions of the Nigeria Broadcasting Code. Your response should reach the commission within 24 hours of receipt of this letter."
Governor Ortom while appearing as a guest on Sunrise Daily on Tuesday, said President Muhammadu Buhari was trying to "Fulanise" Nigeria.
The governor had also described the president's decision to review grazing reserves across the country as unconstitutional.
Ortom had said, "I'm disappointed with the presidency. One would expect that we're in a democratic governance and the presidency would have understood this.
"I think Mr President was misquoted or he did it out of error. He should come out to apologise to Nigerians. There is no basis whatsoever for this to be going on when we have the constitution."
See the NBC letter to Channels Television below.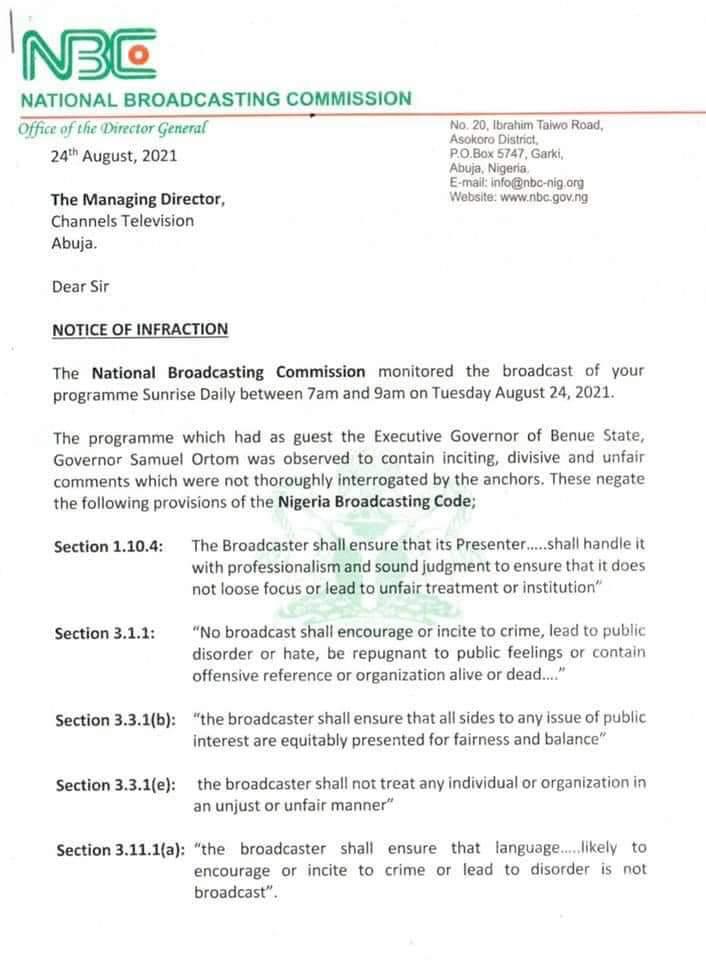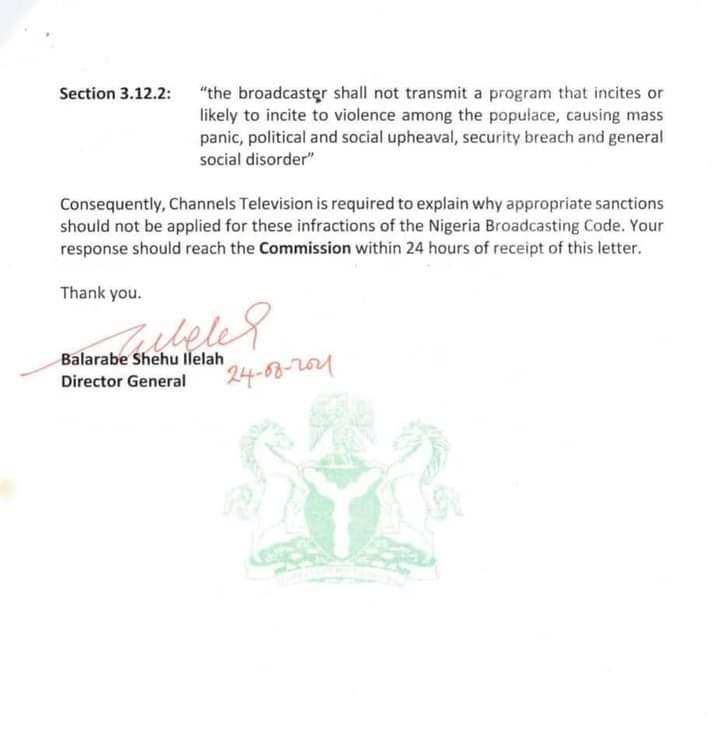 Meanwhile, there are rumours making the round on social media that the presenters of Sunrise Daily on Channels Television have been arrested.
In a post on his verified Twitter handle, Senator Shehu Sani alleged that the presenters, Chamberlain Usoh and Kayode Okikiolu were arrested.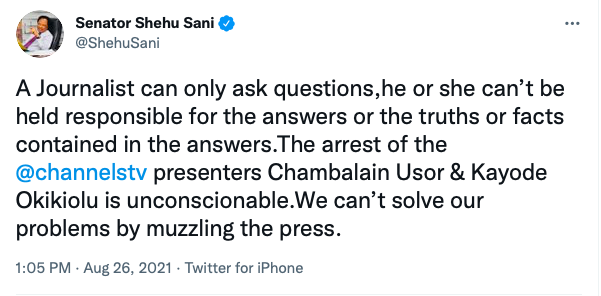 Human rights' activist and former Chairman of Nigeria's National Human Rights Commission, Chidi Odinkalu, also on his Twitter handle, said the NBC had summoned the presenters of Sun Rise Daily, a breakfast show on Channels Television.
Odinkalu tweeted: "There is confirmation that @nbcgovng has summoned the presenters of @sunrisedailynow for this morning."
Support Investigative Journalism and Mentorship
Courageous Journalism of Truth,Transparency and Development is in the DNA of Prime Business Africa; By donating as little as N1000 or $1 today, you are helping to keep credible journalism and life-changing information free for all.