Unavailability of the new naira notes has caused palpable uneasiness among commuters in parts of Enugu State.
Traders, artisans and POS operators have stopped collecting old notes for almost a week now for fear of getting stock with them.
Some have turned the situation into an opportunity to make brisk business as they manage to get the new notes and hawk in the markets and streets.
Prime Business Africa gathered that some POS operators who accept old notes charge higher fees for transaction.
For every ₦10,000 transaction ₦1,000  and even higher is charged for the old notes
This is similar for individuals who have engaged the business of hawking new notes.
Although the Central Bank of Nigeria (CBN) has warned against hawking, spraying and stepping on naira notes, people still engage in the practice.
Inside the Nsukka campus of the University of Nigeria, students are stranded as many business operators including eateries have refused to collect the old notes.
At the banks, on Friday and Saturday, there were long queues of people waiting to collect the new naira notes which they said were very scarce in the banks.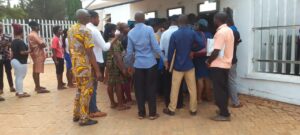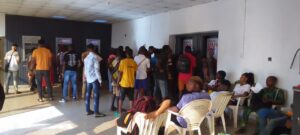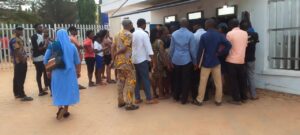 Some students said they feel frustrated being unable to spend the old notes and would do nothing other than to trash them if they couldn't deposit in bank when the deadline finally comes.
A 100-level student of Mass Communication Department, Ijeoma Agbafo, said: "I have old money with me, if at the end I am unable to deposit it, I'll trash it, because it is obvious I cannot spend it. I feel frustrated right now. I think the CBN should allow the new currency go into circulation gradually as it were, when ₦100 notes were printed."
Another student, Chibuife Deborah, stated that she has not been able to eat and go anywhere because she is not in possession of the new notes.
"The shuttle drivers have refused to collect old notes, I can't buy something to eat. I also went to pay my school fees but couldn't, because of not having the new notes. Imagine, I went to deposit ₦1,100 and was charged ₦500 by the POS agent. I don't know what to do with the old notes I have," she stated.
A 100-level student of Economics department, Anthonia lamented that she has been hungry, because of not having the new notes.
The student said she managed to deposit the old currency notes in banks but has been unable to get the new notes to what she needs.
"I don't have any money, because I have deposited the whole thing, I wanted to buy snacks, but couldn't. I am hungry because I can't do transfer, network is bad. Also, I deposited ₦9000 at the rate of ₦900 instead of ₦100."
Manager of Glorious Restaurant located at Faculty of Arts, said he is still collecting the old notes, because the new ones not available, but patronage has gone down in the last one week due to scarcity of the new notes.
"I hardly receive the new notes, especially ₦200, I am still collecting old notes, because I don't have access to new ones. Before now, I know how much I use to make in a day. The government should release more of the new notes."
Also, a 300-level student of Combined Biological Sciences, lamented that she missed her lectures to acquire the new notes.
"This is not funny at all, the deadline should be extended. Through out today (Friday), I did not attend any lecture, just to withdraw the new notes. If we are struggling like this, how about the people in the rural areas. The government should do something, abeg," the student stated.
A POS agent, Mr Peter, had attributed the increase in POS service charge to the scarcity of the new notes.
"The increase in service charge is due to the scarcity of the new notes, the banks are not considering POS agents. The stress is too much on me. At this point, because of the difficulty in withdrawing cash, there is no fixed charge for any amount. I wish the government would print more of the new notes, that way everything will normalize."