The labour Party gubernatorial candidate in Enugu State, Barr. Chijioke Edeoga, has promised that if elected on Saturday 18th March, he would provide strong support for  University of Nigeria Nsukka's (UNN) drive for transformation.
Edeoga made the promise at the Princess Alexander Auditorium (PAA), during his campaign tour of UNN on Wednesday, 15 March 2023.
The immediate past Commissioner for Environment in Enugu State assured the University community of light installation and renovation of dilapidated buildings in the university environment.
READ ALSO: Enugu Guber: We'll Coast To Victory – Edoga, LP Candidate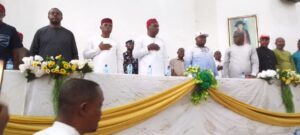 He said he is aware of the challenges staff and students face in UNN and would commit to making the University a better place, not minding its status as federal institution.
"This university is a great place. It has given birth to many people who have gone on to distinguish themselves worldwide. I left UNN in 1986 but I have not really left UNN because I have been part of UNN. My son and daughter graduated from this school also. I deliberately wanted them to be here and in the course of visiting them when they were here, I became aware of the numerous challenges facing UNN students."
"When I was studying here, the highest population of students in a class used to be 40. I am also aware of accommodation problems. Virtually all part of UNN is always dark at night. I will light-up UNN in conjunction with the leadership of the institution. I will deploy the best solar panel ever."
"During my first contact with the current Vice Chancellor, the condition of UNN was our topic of discussion because the state of this institution is something that has been bothering me and I promise you today, that by the grace of God, if I am elected through your votes, not minding that UNN is a federal university, I and my deputy would do whatever we can to make life interesting for students and staff."
Edeoga thanked the people for their commitment and support to Labour Party, especially in the just concluded presidential and National Assembly elections, and urged them to do the same on Saturday, March 18, 2023.
"I also want to thank the entire University community for the commitment and support for Labour Party and its presidential flag bearer, Peter Obi, and for the votes that led to the winning of Labour Party candidates in the national assembly. It will be in memory forever. I also want to encourage you to do the same on 18th of March."
He dispelled social media  rumours that he made a negative statement against Peter Obi, blaming it on the enemies who want to destroy the good relationship Labour Party has built.
"I want you to be weary of the distortion and abuse on the cyber space. The recording flying on the social media that I made a negative statement about Peter Obi is not true. I respect Peter Obi tremendously. He is an icon and a super star. The enemies want to use the video to cause disharmony among brothers who are working together to create a new order both in Enugu State and in Nigeria."
He further accused the current administration in the state of doing everything possible to distract the upcoming elections. Edeoga encouraged the people not to fear as the security agencies have guaranteed safety of citizens on election day.
He said: "The sitting governor of Enugu State is collaborating with Chimaroke to launch war in Nsukka land since after the February 25th elections. PDP has been doing everything to distract the upcoming election, but I assure you not to fear because the Nigeria Army, DSS and Police are equal to the task and have assured us that any person that will try to attack us will be caught. So, do not be afraid. I am only telling you so that you will be aware of what is going on."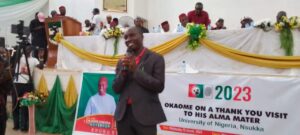 The Dean of Student affairs, UNN, Edwin Omeje, who represented the Vice Chancellor, Prof Charles Igwe, welcomed the LP governorship candidate and assured him of the University's support in the upcoming election.
"On behalf of the Vice Chancellor, Prof Charles Igwe, and the entire students, I welcome Barr. Chijioke Edeoga who is our own. We are aware that you are a supper lion, and wherever lion is, we always expect the best. Following this event, whatever God has ordained will never be overturned."
At the event, Hon Edeoga was endorsed by Ohanaeze Ndigbo Youth Wing, Enugu North Senatorial Zone.
The Youth Wing President, Onyedikachi Onah, said Edoga has shown that he has the best interest of the state at heart.
"I stand here on behalf of the entire Ohaneze Ndigbo Youth Wing, to endorse Barr. Chijioke Edeoga,as the next governor of Enugu State. We know that he has the best interest of Enugu State at heart, and would totally transform the state," Onah stated.