Outgoing British Prime Minister Boris Johnson on Tuesday morning delivered his last speech before his handover to Liz Truss and offered to support the new leader.
Johnson also sounded out his government's accomplishments including Brexit, the roll out of the coronavirus vaccine and arming Ukraine.
"This is it, folks. In only a couple of hours, I will be in Balmoral to see Her Majesty the Queen and the torch will finally be passed to a new Conservative leader.
"I just say to my party, if Dylan and Larry (the Downing Street cat) can put behind them their occasional difficulties, then so can the Conservative party.
"It's time for politics to be over folks, it's time for us all to get behind Liz Truss and her team and deliver for the people of this country."
"Because that's what the people of this country want, that's what they need, and that's what they deserve,"
"I am like one of those booster rockets that has fulfilled its function. I will be supporting Liz Truss and the new government every step of the way," Johnson pledged as he spoke from a lectern outside 10 Downing Street.
"We had a fantastic group of public servants, the people who got Brexit done, the people who delivered the fastest vaccine rollout in Europe."
"Together, we have laid foundations that will stand the test of time whether by taking back control of our laws, or putting in vital new infrastructure, great solid masonry on which we will continue to build together paving the path of prosperity now and for future generations."
The embattled Johnson blamed Russia's "vicious war" on Ukraine for the energy woes plaguing Europe, and added that the UK has the "economic strength to give people the cash they need to get through this energy crisis."
"I know that Liz Truss, and this compassionate Conservative government will do everything we can to get people through this crisis, and this country will endure it and we will win," the 58-year-old Johnson stated.
Johnson will to fly to Scotland to hand his resignation letter to the Queen while Truss is expected to address the UK on Tuesday afternoon.
Support Investigative Journalism and Mentorship
Courageous Journalism of Truth,Transparency and Development is in the DNA of Prime Business Africa; By donating as little as N1000 or $1 today, you are helping to keep credible journalism and life-changing information free for all.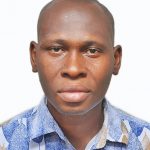 Izuchukwu Okosi is a Nigerian sports and entertainment journalist with two decades of experience in the media industry having begun his media journey in 2002 as an intern at Mundial Sports International (MSI) and Africa Independent Television (AIT), owners of Daar Communications Plc.
In October 2004, Okosi joined Complete Communications Limited, publishers of Complete Sports newspaper and Complete Football magazine as a reporter and later script writer for the Complete Sports studio.
He worked there for 13 years until October 2017.
Okosi also worked various times as Correspondent, Content creator and Editor at Sports Market International Magazine, Opera News, All Nigeria Soccer Media and Iconic Media Watch.
He also undertook freelance writing gigs for some local and international organizations.
Okosi is a member of the Actors Guild of Nigeria (AGN), Association of Movie Producers (AMP), Association of Voiceover Artistes of Nigeria (AVOA), Sports Writers Association of Nigeria (SWAN) and Nigeria Union of Journalists (NUJ).
He has been part of cast in some Nollywood movies and radio dramas including Blood Money 2, Scores To Settle, Dead End 2, Another Campus Tale and Battle Line.
Aside mainstream media and the entertainment industry, he has interests in scouting/unearthing of talents in the sports and creative sectors, exports business and property development.