The modular floating dock has the potential to create jobs, attract foreign investment and prevent capital flight, says Dr Yusuf Jamoh, Director General, Nigerian Maritime Administration And Safety Agency (NIMASA).
Jamoh made this known during the handover of the leased site at the Continental Shipyard Limited (CSL) of the Nigerian Ports Authority (NPA) to the technical partners, Melsmore, a Nigerian registered company.
According to a statement by the Assistant Director, Public Relations, NIMASA, Osagie Edward, Jamoh said that the modular floating dock will also boost maritime trade and help in skills acquisition by providing opportunities of training to various maritime training institutions across Nigeria.
"Nigerians eagerly await the deployment of the Modular Floating Dock. This is a national asset, which has potential to boost maritime trade, create jobs, and develop skills, by providing training avenues to various maritime training institutions in Nigeria, while also attracting foreign investment and preventing capital flight, thereby generating revenue," Jamoh stated.
"We hope to have students from the Maritime Academy of Nigeria and the Maritime University Okerenkoko amongst other maritime institutions come for practical time," the DG said.
The statement said Melsmore has been given the responsibility of relocating the Modular Floating Dock from the Naval Dockyard to the waterfront of the Dolphine Jetty at the NPA Dockyard which used to be the Continental Shipyard.
It added that the managing director, Melsmore, Mr. Danny Fuchs had earlier in the week, engaged the Management of NIMASA and discussed details of relocating the Modular floating Dock to the Dolphine Jetty which the Agency leased from the Nigerian Ports Authority.
Jamoh, stressed the need for them to review the action plan in the light of realities on the ground with detailed deliverables, and key performance indicators with clearly stated timelines.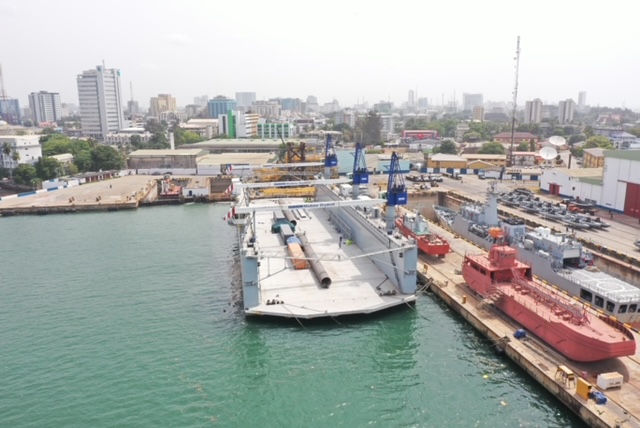 Danny said they are committed to executing their project of relocating the Modular Floating Dock.
"Our job is to move the Modular Floating Dock from the present location to the waterfront of the Dolphine Jetty at Apapa. THSD SEA LION which occupied the leased area at the water front has vacated the jetty now. We have a commercial understanding with NIMASA on how to execute this project.
"We have submitted a feasibility study taking note of the Mooring system required to anchor the Modular Floating Dock at the Dolphine Jetty. The Mooring System supplied by the Manufacturers of the Modular Floating Dock is made up of two steel piles of 36 meters Length, 2 meters in Diameter and a weight of roughly 48 Tonnes each. These massive piles need to be driven about 20 meters into the Seabed.
"We will bring our expertise to bear in carrying out this project. We also hope to invite the manufacturers, Damen Shipyard to join forces in achieving this relocation project. We will work with Damen Shipyard to ensure the Modular Floating Dock is Seaworthy before the relocation. This is to Commission the Modular Floating Dock before relocation," he said.