At least two female adults have been confirmed dead with many injured on Thursday morning in an accident that involved a Nigerian Railway Corporation (NRC) train and a Lagos State Bus Rapid Transit (BRT).
The BRT  bus involved in the accident which occurred near PwD bus stop was carrying Lagos State Government workers.
According to eyewitness accounts, the BRT bus with number 250033, carrying Lagos State workers, got crushed by the train while trying to cross the railway track at the Shogunle area of the state.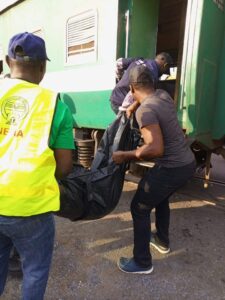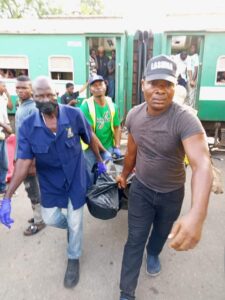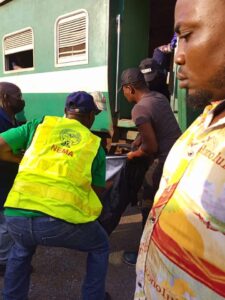 Many who witnessed the unfortunate incident wondered why the BRT bus made an attempt to cross the railway track when the train was already near.
"The BRT bus shouldn't have attempted to cross because the train was already close," said an eyewitness.
"Many people who are mostly Lagos State workers are inside the BRT bus and I do not know the number of who sustain injuries at the moment.
"The train ran into the BRT bus at Shogunle and dragged it along the rail track up to PwD area," another who witnessed the incident added.
A video posted on Facebook by the Lagos State Emergency Management Authority (LASEMA), heavy duty crane on the ground trying to remove the badly damaged bus from the rail track.
Officials of LASEMA were also seen evacuating both the dead bodies and the injured occupants of the BRT bus.
A large number of people were seen at the scene sympathizing with the injured ones and assisting LASEMA officials in the rescue/recovery operations.
In another post on Facebook, LASEMA said "The casualties have been transferred to the General Hospital for further medical attention after being given first aid by the Agency's Paramedics.
"Unfortunately, two female adults lost their lives to the incident and were handed over to SEHMU for onward transfer to the morgue."
Support Investigative Journalism and Mentorship
Courageous Journalism of Truth,Transparency and Development is in the DNA of Prime Business Africa; By donating as little as N1000 or $1 today, you are helping to keep credible journalism and life-changing information free for all.

Peter Okoye, PBA Journalism Mentee