Nigeria international Alex Iwobi has expressed huge gratitude to his family for the support they offered him during his days at Arsenal.
The forward cum midfielder was sold in the summer of 2019 to Everton in a deal worth £35m but before leaving London for Merseyside, the Nigerian was the scapegoat for a disgruntled supporters when results did not go well for the club.
Iwobi, who is nephew to former Super Eagles captain and BBC African Footballer of The Year 2003 and 2004, Austin Jay Jay Okocha, spoke on Premier League Production show: 'The Art of the Mind.'
The no-holds barred show, 'The Art of the Mind' took an indepth look on the mental health issues that affects footballers and how psychology is a huge part of a footballer's daily life.
Presenter, Wil Perry had in the studio, former Brighton FC striker, Glenn Murray who was joined by Dr. Michael Caulfield, a versely experienced Sports Psychologist working with Premier League side, Brentford FC, to speak on how players' well-being should be the prerogative of football clubs.
The spellbinding programme shed light on issues such as suicidal thoughts, clinical depression, injuries, solitude, toxic environments, defeats and stress.
READ ALSO: Iwobi Undergoes Scan On Ankle Injury, Player's Father Hopeful 
The Premier League Production crew spoke to some Premier League players on their harrowing experiences never told before.
A teary Patrick Bamford who plays for Leeds United said: "For one year, I could barely use my feet from the Anterior cruciate ligament (ACL) damage I suffered.
"I was never interested in watching our games, even the home games. I was never at the stadium."
Manchester United goalkeeper, David de Gea, spoke on the goalkeeping gaffes he made when he just arrived England as a youngster.
"I just arrived the country (UK) then as a 20-year-old. I was new to the country and had to bed-in and understand my teammates. I'm now a man but then I was very young. The fans were having none of that," de Gea who barely spoke English upon his arrival explained.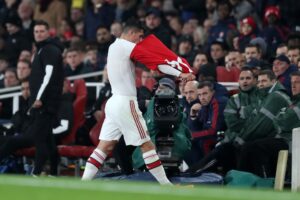 Arsenal stripped Granit Xhaka of his captaincy after a fallout with the fans who booed him relentlessly for a poor performance made worse by the red card he received against Crystal Palace in 2019.
Xhaka disclosed that his family received death threats online with one fan reportedly saying he hopes that Xhaka's daughter dies of cancer.
That incident made him almost leave the club but he has since reneged on the decision after a heart-to-heart talk with (then new) manager, Mikel Arteta.
Iwobi then talked about the harsh criticisms from Arsenal fans when he was at Arsenal.
"When I played for Arsenal, a lot of people questioned my abilities. The criticisms were just too much.
"But I had my family who stood behind me. My dad kept telling me that I am at such a big club for a reason and I should keep working hard. He was instrumental in me overcoming such harsh feedbacks.
"I owe my family a lot in this regard. These days, I just go out there and try and put in my best. I accepted the fact that there would always be critics," Iwobi revealed.