Chairman of the Independent National Electoral Commission (INEC), Prof Mahmood Yakubu, has directed Resident Electoral Commissioners (RECs) to immediately initiate disciplinary actions against electoral officials found to have engaged in wrongdoing during the last Saturday's election.
The INEC chairman gave the directive at a meeting with RECs in Abuja on Saturday, 4th March.
Prof Yakubu instructed the RECs not to involve any electoral official – ad hoc staff, collation or returning officers – found to have been negligent in forthcoming elections.
Yakubu, who said the Commission is working hard to overcome the challenges experienced in the Saturday, 25th February presidential and National Assembly elections, noted that Nigerians cannot afford to accept any more excuses for failure and stressed that all staff found to have breached codes of conduct should be removed henceforth and punished where evidence of wrongdoing is established.
Last week's election witnessed wide range of irregularities, including failure to use the Bimodal Voter Accreditation System (BVAS) machines particularly for uploading election results from polling units to INEC Result Viewing (IReV) portal, and alleged comprise on the part of electoral officials, security operatives and agents of political parties.
READ ALSO: Breakdown Of 25.3 Million Votes In Nigeria's 2023 Presidential Election
The commission has fixed 11th March for governorship and State Assembly elections.
"As we approach the Governorship and State Assembly elections, we must work harder to overcome the challenges experienced in the last election. Nothing else will be acceptable to Nigerians. All staff found to be negligent, whether they are regular or ad hoc officials, including Collation and Returning Officers, must not be involved in forthcoming elections. 
"RECs must also immediately initiate disciplinary action where prima facie evidence of wrongdoing has been established," Yakubu stated.
He noted that last week's election raised a number of issues that require immediate, medium and long-term solutions.
"The planning for the election was painstakingly done. However, its implementation came with challenges, some of them unforeseen. The issues of logistics, election technology, behaviour of some election personnel at different levels, attitude of some party agents and supporters added to the extremely challenging environment in which elections are usually held in Nigeria," he added.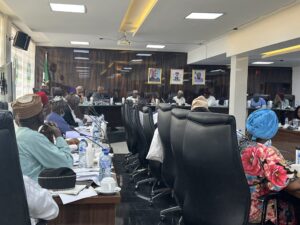 On the challenges encountered with the use of the BVAS machines, Yakubu said they would be deployed for the March 11 election, adding that the Commission "has intensified the review of the technology to ensure that glitches experienced, particularly with the upload of results are rectified. We are confident that going forward the system will run optimally."
On the issue of logistics for the forthcoming election, the INEC chairman directed Resident Electoral Commissioners to ensure that all Election Day logistics are finalised days before the election and should be handled by Electoral Officers at Local Government levels. "This has been our standard practice," he added.
"Centralising the process as was done in some States resulted in delayed deployment of personnel and materials and late commencement of polls. RECs will be held responsible for any tardy arrangement or the failure to deploy electric power generators to collation centres or polling units where such facilities are needed. The Commission has enough facilities in all the States of the Federation. Failure to deploy them is simply inexcusable," Yakubu said.
He also directed RECs to ensure that there would be a refresher training for all ad hoc staff to ensure smooth operations on election day.
He further disclosed that winners of last week's national assembly elections will be issued their certificates of return on Tuesday and Wednesday for Senators-elect and House of Representatives-elect respectively.
He commended Nigerians for their patience and understanding during the last election, regarding the irregularities that occurred and noted that it was not taken for granted.
He also appreciated role of political, traditional, religious, and community leaders in appealing for calm during election.
He said the Commission appreciates the role of election observation missions and domestic observers, noting that their preliminary observations will help the electoral body in concluding the 2023 general elections.