With the growing economic hardships, and the challenge of having access to healthy products, families looking for Tom brown to assist in weaning their babies can now resort to preparing it by themselves using some easy guides offered by food experts.
Nigerian parents can prepare tom brown for their babies using some food items sourced locally.
Tom Brown is a mixture of cereals – yellow corn (maize), guinea corn, and millet- and legumes (soybeans and groundnuts) as well as possibly other optional ingredients like dabino (date fruits), groundnuts, ginger, dried sweet potato powder, as one may desire.
According to nutrition experts, cereals and legumes have a variety of nutrients beneficial to a baby's good health. It is also good for adults. Breast milk contains a lot of things nutrient-wise that a baby needs for growth and good health. Transiting from that stage of breastfeeding can be a challenging moment both for the parents and the baby, hence, a viable feeding alternative becomes quite imperative.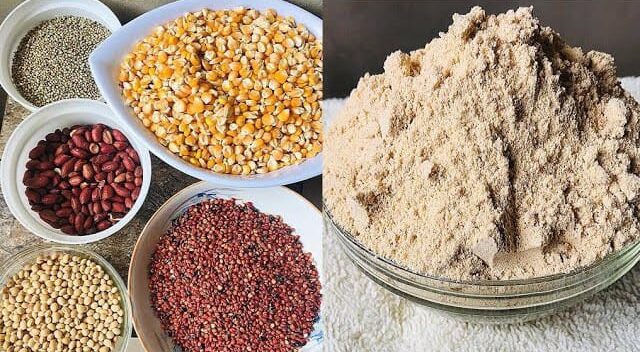 Compulsory Ingredients For Making Tom Brown Powder
Yellow corn
Guinea corn
Millet
Soybeans
Optional Ingredients
Groundnuts (removed from shell)
Powdered ginger
Dried sweet potato powder
Crayfish
Dabino (DATES)
Note: The quantity of each item varies. For instance, some suggested that for every 1kilogram of yellow corn (maize), the following quantities should be added 1 kilogram of Guinea corn, 500grams of Millet, 500grams of Soyi beans, 200grams of Groundnut, 1 cup of Crayfish, 1 handful of Ginger and 1 handful of Dates.
As can be seen in the measurements, it's best to have the maize and Guinea corn more in quantity than others.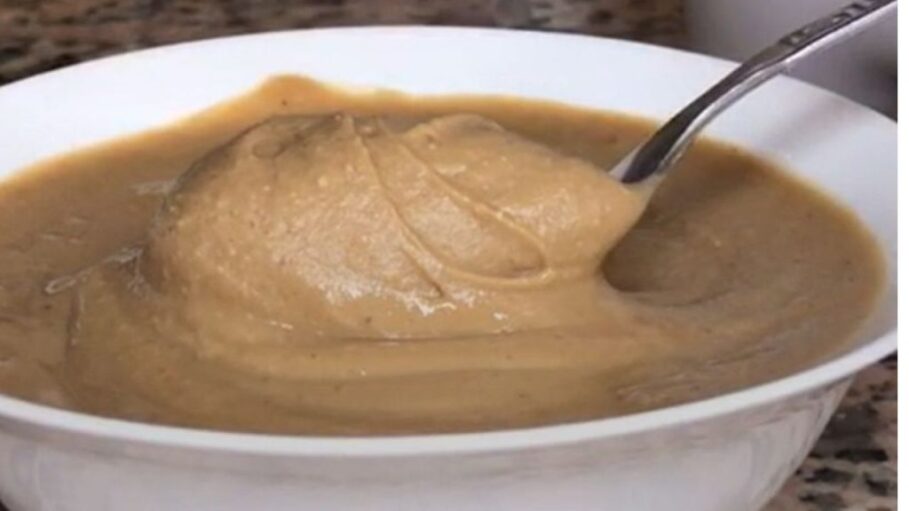 How To Prepare your Tom Brown
After buying the food items required to prepare the tom brown the first step is to pour the grains in separate trays and carefully sieve to remove stones and foreign particles.
Secondly, wash the grains separately and spread them out to dry in the sun.
Thirdly, fry the corn with a frying pan. At this, stage, do not fry too much to avoid reaching a point it begins to pop like popcorn. Also, fry the millet, Soyi beans and groundnut. Allow the grains to cool down.
After they cool down, grind softly using either a mortar with a pestle or mill and thereafter, sieve the chaff by blowing them away.
After sieving the chaff, the next thing is to blend them together with the groundnuts, crayfish, dates, etc., already sieved. You can blend the mixture with a high-power blender at home or you can take it to a nearby grinding mill to blend. Do not add water while blending.
After blending, pour it inside a dry container and preserve it for future use.
Frequently Asked Questions (FAQ)
How do I prepare tom brown for consumption?
It is simple and less time-consuming to prepare (not more than seven minutes). here are the steps:
Put some water on fire to boil up to 100 degrees.
Measure a quantity of Tom brown powder into a bowl; add cold water gradually until it becomes a pasty mixture. Be careful not to add too much water (just like one preparing ordinary pap).
Pour the Tom brown paste into the boiling water and stir continuously until your Tom brown attains a custard-like texture.
There you have it! Your meal is ready. You can fortify it with milk among others as desired to make it tastier and more nutritious for your baby.
What are the health benefits of tom brown?
Tom Brown offers a lot of health benefits both to babies and even adults. It supplies nutrients for body nourishment for babies.  It helps babies gain weight, and increase or regain energy levels, among other health benefits. It is recommended for malnourished kids.
For adults, it helps in supplying essential antioxidants, improving vision, controlling diabetes, lowering blood cholesterol levels, boosting energy levels, reducing inflammation or swelling, and controlling high blood pressure.
Note: The most important of all is that it is free of unhealthy preservatives.