Ford Foundation, UN Women Seek Intervention Of Cultural, Faith Leaders In Tackling GBV In Nigeria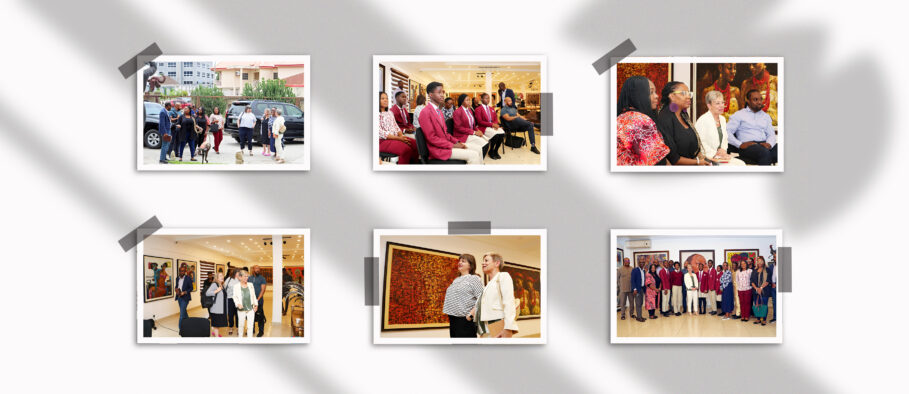 Ford Foundation has called on cultural and faith leaders to key into the global agenda of ending Gender-based Violence (GBV) by advancing policies that change social norms towards addressing that both in Nigeria and West Africa in general.
The NGO made the call during a roundtable organised in collaboration with the United Nations Women in Lagos on Wednesday.
Speaking at the one-day event held at Eko Hotel and Suites, Executive Vice President, Ford Foundation, Mrs Hilary Pennington, said the mission of the foundation is to advance human dignity and welfare, promote understanding among peoples and to disrupt all forms of inequality around the world.
Part of the work she said is to Promote gender justice which includes ending violence against women's rights.
Prime Business Africa reports that the event focused on GBV and its effects on society and the role that can be played by cultural and faith leaders, alongside Women Rights Organisations (WROs), to address it.
Pennington said that cultural and faith leaders in Nigeria and West Africa in general, need to play significant role in tackling GBV as they are custodians with wealth of experience in their communities that can be deployed in the campaign.
She said: "As an American foundation, even though we have an office in Nigeria, led by West Africans, we cannot do this work effectively without you, without your advice, guidance and your leadership and partnership. We do not understand how to work on these issues and the best ways, unless we can hear from you and do it together," Pennington told the cultural and faith leaders gathered at the event.
"So, we are here to learn from you to hear your advice and your wisdom and then to stay together working in partnership," she added.
She noted that looking at statistics of GBV cases globally, one would understand the impact of such on the potentials of people affected in terms of their contribution to national development.
The Ford Foundation Executive Vice President further stressed that it is the duty of the current generation of leaders to change the situation for good.
"You know we have heard statistics that are very sobering today, and many facts and numbers.
"Behind each of those facts and numbers of people are human lives or human potential female and male that are held back because of the culture, the norms and practices we have all over the world, not just in Africa, and I believe we are the generation that can change this," stated.
Also speaking at the event, Dr Chichi Aniagolu-Okoye, Regional Director, West Africa, Ford Foundation, re-echoed the concern expressed by Pennington on the statistics of gender violence and its effect on people in communities, especially women.
Dr Aniagolu-Okoye said it cuts across all parts of the country, adding that it manifests in the form of rape, sexual harassment, female genital mutilation, wife battery, inhibition of widowhood rights, child molestation, infliction of physical injuries, and forced labour among others.
She noted that while GBV also affects men, statistics showed that the overwhelming victims were women.
She said a report revealed that 49 per cent of separated divorced or widowed women reported experiencing violence since age 18 and that 28 per cent of women who are married or living with their spouses had experienced violence.
On her part, Country Representative of United Nations Women, Mrs Beatrice Eyong, said the UN Universal Declaration of human rights adopted in 1948 by the UN General Assembly, recognises the inherent dignity and equal and inalienable rights of all members of the human family as the foundation of freedom, justice and peace in the world but, GBV violates these principles.
She said if we value the safety of our community members, and believe that human The UN Women representative said at least one in three women have experienced physical and sexual volence, while "at least 200 million women and girls aged 18 to 49 years have undergone female genital mutilation in 31 countries where the practice is concentrated. Half of these countries are in West Africa. In Nigeria, 43 per cent of girls are married before the age of 18. Once married, only 1.2 percent of those aged 15 to 19 have their contraception needs met, leading to high levels of unwanted pregnancy, increasing burden of maternal mortality and several other negative health outcomes."
While painting a picture of the impact of GBV on the economies of countries, Mrs Eyong said: "Cultural and faith leaders are in a strong position to work with their communities to address the harmful cultural practices and instances of gender-based violence that perpetrate negative gender norms and harm women and girls' life and safety."
She observed that faith and cultural leaders are decision-makers who like policymakers shape the status quo.
"I hope that this dialogue will serve to synergise efforts that will accelerate positive actions, addressing issues of sexual and gender-based violence in line with the 2030 Sustainable Development Goals agenda as well as the African Union's agenda 2063.
"The distinguished leaders in this room, both religious and cultural, are key to shifting social norms and driving the political change needed to combat gender-based violence and enhance women's participation in society," she stated.
Mrs Funke Baruwa, the Ford Foundation's Programme Officer, Gender-based Violence and Injustice, said the foundation was employing innovative ways to address GBV by engaging traditional, and religious leaders, using civil society groups as entry points and asking them to lead advocacy.
Responding, the lead convener, Council of Traditional Leaders of Africa (COTLA), Oba Adedapo Aderemi, admitted that they have significant role to play in ending GBV by raising awareness of the effects, advocating policies and laws that protect women's rights and also providing support for survivors.
Oba Aderemi noted that tackling GBV would help in protecting the rights of people, increasing economic productivity, fostering social cohesion and promoting gender equality in different communities across the continent.
Other highlights of the event was the decoration of Pennington and Mrs Eyong among other relevant women rights activists as Queens of Africa by the Council of Traditional Rulers in Africa, led by Oba Aderemi.
Social Cohesion: Nigeria Now More Divided, API Report Reveals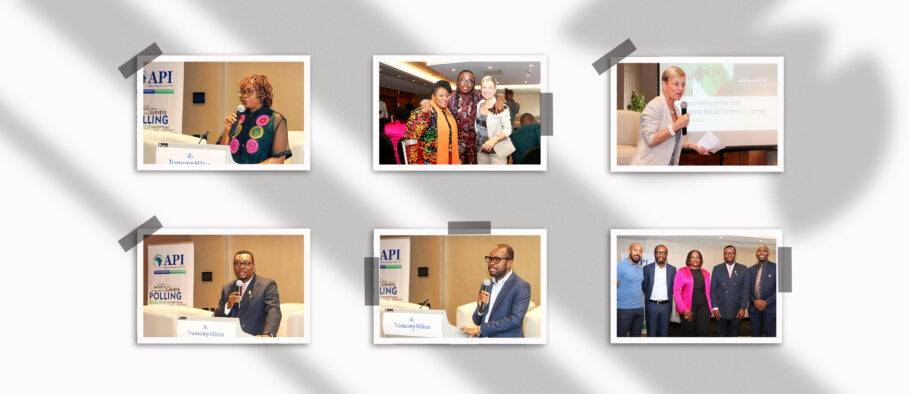 Despite the calls and measures taken to ensure national unity, a new report by the Africa Polling Institute (API) has revealed that the country has become more divided in recent times.
The API 2022 report titled "The Nigeria Social Cohesion Survey" (NSCS), revealed that issues of ethnic, religious identities and economic challenges in the country are factors posing significant threats to social cohesion and keeping the country more divided.
The Executive Director, Africa Polling Institute Prof. Bell Ihua, who presented the report at Transcorp Hilton Hotel, Abuja on Thursday, 11 May, said the Institute adopted key indicators such as identity, trust, social justice, patriotism, political participation, corruption, impunity and future expectations among others, to measure the state of social cohesion in the country.
The presentation organised by the Africa Polling Institute (API) was witnessed by the Ford Foundation's Executive Vice President, Hilary Pennington and other foundation leaders on their visit to Nigeria.
The Institute has conducted the National Cohesion Survey in 2019 and 2021.
Prof Ihua said: "The 2022 National Cohesion Survey (NSCS2022) was designed to build upon the two past editions (2019 and 2022). It is a national Citizens Perception Survey undertaken by the Africa Polling Institute with support from Ford Foundation.
"The broad aim of the survey is to generate credible and scientific data to stimulate constructive policy dialogue on how to address existing conflicts, design Peace building initiatives and enhance mutual trust between the government and the governed."
The results of the Nigeria Social Cohesion Survey 2022 and the Social Cohesion Index show a score of 39.6 per cent. According to the report, this figure suggests that Nigeria still remains below the average threshold for a socially cohesive country.
The report further noted that when compared to the 2021 Index, which was "44.32 per cent there is clear evidence to suggest that the state of social cohesion in Nigeria has weakened over the last year,"
According to Ihua, the study revealed there is more ethnic consciousness among the citizens than national interest and that there is also a declining feeling of lack of social justice.
The study also showed there is waning trust on government and public institutions by the citizens who trust religious and traditional leaders more.
The API executive director said that what is needed now is actions to address the weakening social cohesion.
The report made recommendations for both government, traditional rulers and religious leaders, civil society organisations in Nigeria and citizens to rally measures towards increasing national cohesion.
He thanked Ford Foundation for funding the project, noting that the intervention has helped to bring the issue of weakening social cohesion in Nigeria to the limelight.
He called on policymakers and others in the corridors of power to take the result of the study seriously and implement reforms to tackle the challenges identified.
Highlights of the events were sharing of the presentation of the NSCS report findings, a panel session that discussed the current state of Nigeria's cohesion, especially in the context of the recently concluded presidential elections; and an exploration of strategies for resolving the country's long-term conflicts in various locations for national unity.
The panelists were Dr Hussaini Abdu, Country Director, Care International Nigeria; Hauwu Evelyn Yusuf, Professor of Criminology and Gender Studies, Kaduna State University; Yemi Adamolekun, Executive Director, Enough is Enough Nigeria (EiE); and Prof. Ihua of API.
The panelists expressed concern about how political leaders exploit ethnic and religious differences to manipulate the citizens to their advantage during election season. They called on Nigerians to rise above ethnic, religious and other identity differences that the political class exploit to manipulate them and push for national integration for the overall growth and national development.
Earlier in her opening remarks, Regional Director of Ford Foundation, West Africa, Dr Chichi Aniagolu-Okoye, Aniagolu-Okoye thanked API for undertaking the study and all other ones they had previously done to provide data that reveal the level of social cohesion in the country and pointed out the need for efforts to be made towards healing for national integration.
In her closing remarks, Pennington lauded API for the social cohesion survey which gave insights into level of division in the country. While commending the panelists for their intelligent submissions on issues widening division in the country and what can be done to mitigate that, she urged those attributing the problem to what they call the "Nigerian factor" as the cause of the problem is a, to see it from a different angle.
The Foundation's Executive VP said Nigerians have enormous energy and should learn to manage their diversity in such a way that builds national cohesion, starting with their attitudes, instead of waiting for the government or civil society alone to fix the problems.
Group Advocates Environment-based Arts Education For Nigerian Schools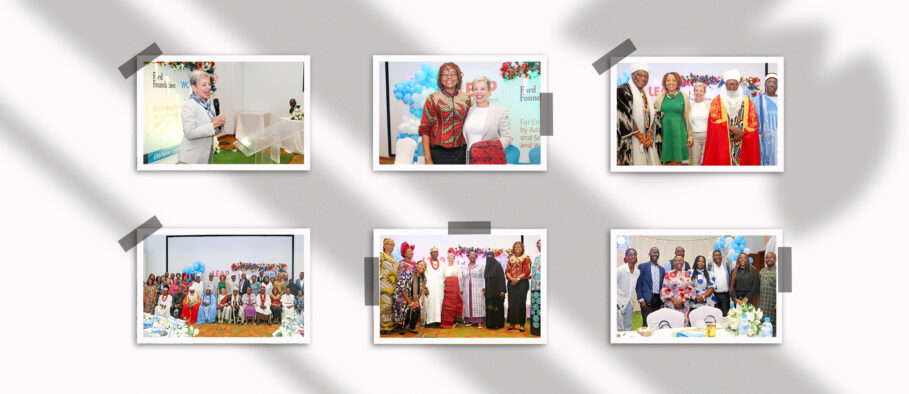 As the world pushes for sustainable environmental practices there is new emphasis on integrating environment-based arts education in Nigerian schools.
This was espoused during an art exhibition organised at Thought Pyramid Arts Centre, Abuja last week in honour of the visit of Ford Foundation Executive Vice President, Hilary Pennington, and other leaders of the Foundation to the capital city.
In line with its education policy vision, Ford Foundation has embarked on awarding grants for projects focusing on citizens' re-orientation about sustainable environment through arts.
One of such is the EcoSmart Project designed by Artstier Studios based in Abuja, for the facilitation of eco-friendly art practices and products in Nigerian secondary schools.
Speaking during the art exhibition, the Executive Director, Artstier Studios, Mr Obi Nwaegbe, said the project with the theme, "Imagine Green", was designed to contribute to the global efforts of ensuring sustainable environment, with focuse on arts.
Mr Nwaegbe during his presentation before Ford Foundation officers at the art centre, listed various forms in which the project is dealing with promoting eco-friendly practices which among others include paintings that depict safe environments; recycling waste materials by transforming them into art objects for aesthetics, entertainment and education purposes.
The Artstier Studios executive director displayed various art works depicting the environment, bearing different messages about sustainable practices.
He said the project also involves conducting workshops in schools across the country for the school authorities to see the need to integrate arts education focused on sustainable environment in the curriculum.
Speaking further about the project, Nwaegbe said: "Imagine Green is a phrase coined for the EcoSmart Project designed by Artstier for the facilitation of Eco-friendly art practices and products in our secondary schools. Due to Nigeria's huge population and strategic position as one of the largest economies in Africa, it has the responsibility to lead the charge on this globally fundamental discourse.
"The purpose of working with teenage students for this project borders on their impressionability and susceptibility to change. Today's young are tomorrow's leaders, and it is common sense that we work to get them to imbibe a much more eco-sensitive attitude towards the environment."
On economic side, he explained that recycled waste materials for art making have economic value. "There is a growing global demand for upcycling art as a method of public orientation about the environment, and the artist and other related professionals can tap into the economic potentials of this global demand to generate in one and on different economic scales both as individuals, head of corporate organizations as well as policy makers."
Continuing, he said: "The EcoSmart 'Imagine Green' project started as a peripheral component of the Artstier establishment and our earliest foray into the exercise started with making environmental theme works with discarded materials. I Obi Nwaegbe, Executive Director of Artstier, who also happens to be the chief resident artist and Artstier Studios initiated this idea and alongside two assistants, implemented over a dozen monumental works made of discarded beverage cans nailed to boards. Our operations expanded with carrying out a workshop on the subject and then subsequently partnership with larger establishments with similar visions."
Nwaegbe noted that his organisation had received grants from Ford Foundation for the EcoSmart programme which it started in Lagos, and has since been an annual event designed for children in secondary schools. "We have carried out a workshop with seven schools in Lagos with over a hundred students and have an exhibition in June to commemorate the International Day of the Environment," he further stated.
He noted that Ford Foundation supported the project because it found it to be in line with its vision and policy on education.
"We received a grant award from Ford Foundation to help facilitate the program in 2022. This was after a series of intense scrutinies of our work and progress to ascertain our level of commitment. The Artstier EcoSmart fits into their Education Policy Vision and we are in partnership with them as a part of their Friendly neighbour correspondence."
Mr Samuel Panshak, who led some students of Foot Steps International School, Gwarinpa, Abuja, to the exhibition, said schools, especially at basic education level have a challenge of deepening knowledge of arts, and that a project like this would help to impact the students with practicals and urged the organisers to extend their invitation to many schools as possible.
Some of the students spoke on what they think of how arts can be deployed in changing attitude of people about the environment.
One of the students of Footsteps International School, Chukwuemeka Michael, said the project would not only help to deepen knowledge of arts in students who are future leaders, but also enable them to have the right orientation about sustainable environment.
"We can benefit from the project by learning the concept of arts.
Arts has helped not only in the area of life but also in science. For example, Leonardo da Vinci used his art to sketch flying machines. The concept was later used to make aircraft, which we're all using today.
"We also use arts to express our traditions. I think the project will help to broaden our mentality and mindset about art," Michael said.

Commenting on the project, Emmanuel Kuyole, program officer on Natural Resources and Climate Change team, Ford Foundation West Africa, said the interesting thing about the project is that it is focusing on children who are the leaders of tomorrow.
"The interesting thing about this particular project is that we are focusing on the right people who will have a different way of looking at our society now and post-2023.
I think it's the right thing to do so that hopefully, we will have a new crop of people who are very environmentally conscious," Kuyole added.