Lagos State Governor, Mr. Babajide Sanwo-Olu, personally flagged off the Lagos Food Bank Programme on Sunday, aimed at alleviating the hardships faced by Lagos residents due to the removal of fuel subsidy by the Federal Government.
In his direct speech, Governor Sanwo-Olu assured the public of transparent distribution and outlined the program's extensive reach.
Speaking passionately during the launch of the Lagos Food Bank Programme at Lagos House, Ikeja on Sunday, Governor Sanwo-Olu stated, "The programme will directly impact 500,000 benefiting households, with over 2,500 Micro, Small, and Medium Enterprises involved in manufacturing, food aggregation, packaging, and logistics.
READ ALSO: Marginalization Of Lagos Muslims: 21 Groups Defend Governor Sanwo-Olu's Cabinet List
"Over 25,000 employees of these MSMEs will be indirectly benefited, reflecting our commitment to supporting businesses."
Sanwo-Olu highlighted that the Lagos State Government has undertaken various measures to ease the economic burden brought about by the fuel subsidy removal.
These measures include a 50 percent reduction in transportation costs within the government-owned bus system and free healthcare services for pregnant women in government hospitals.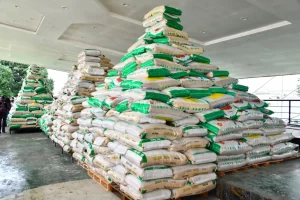 He emphasized the strategic goals of the program, saying, "We aim to reach 500,000 vulnerable households using two methodologies – bulk food items for groups and food boxes for individual households. This will ensure that staple food items like rice, garri, and beans reach those in need."
Governor Sanwo-Olu underscored the importance of transparency, stating, "To ensure transparency in the implementation of this intervention, a Monitoring Committee with members drawn from various segments of society will be constituted."
He also called for the support of individuals and organizations, saying, "I would like to use this opportunity to solicit the support of well-meaning and public-spirited individuals and organizations for this programme so that more of our people in need of this intervention can be reached."
Governor Sanwo-Olu acknowledged the economic challenges faced by Lagosians and pledged to continue working towards improving living conditions, saying, "The policies being implemented right now by the Federal government are difficult but necessary measures that must be taken to reposition our economy on the path of sustainable development and prosperity for all citizens. I am therefore appealing for the continued understanding of all Lagosians."