Black Stars of Ghana winger Christian Atsu who was declared missing following the recent earthquake that killed scores of people in Turkey and Syria has been found dead under the rubble of his home almost two weeks after his whereabouts became unknown.
Atsu, 31, had played for Chelsea and Newcastle in the Premier League and the league governing body in England, as well as FIFA, CAF, Ghana Football Association and the Nigeria Football Federation have sent condolence messages to his family and the people of Ghana.
The Ghana forward played 107 games for Newcastle and had spells with Chelsea, Everton and Bournemouth.
Atsu had been missing since earthquakes hit Turkey and Syria on February 6.
READ ALSO:  Goalkeeper, Turkaslan Among Dead Turks After Deadly Earthquake
He was part of the Newcastle team which won promotion back to the Premier League in 2017 after joining on loan for the season from Chelsea, and later completed a permanent move.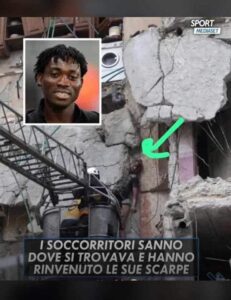 His club Hatayspor initially reported he was rescued "with injuries" but a day later that position changed.
"It is with the heaviest of hearts that I have to announce to all well wishers that sadly Christian Atsu's body was recovered this morning," his agent Nana Sechere tweeted on Saturday.
"My deepest condolences go to his family and loved ones. I would like to take this opportunity to thank everyone for their prayers and support.
"I ask that whilst we make the necessary arrangements, that everyone would please respect the privacy of the family during this very difficult time."
More than 40,000 people in southern Turkey and northern Syria have been killed in the earthquake.
Support Investigative Journalism and Mentorship
Courageous Journalism of Truth,Transparency and Development is in the DNA of Prime Business Africa; By donating as little as N1000 or $1 today, you are helping to keep credible journalism and life-changing information free for all.