Edo State Governor, Mr. Godwin Obaseki, has begun talks with the Namibian Government on potential trade and investment opportunities.
This spans livestock production, technology, and management services, among other sectors, between the government of Namibia and Edo State.
During a courtesy visit by the Namibian Ambassador to Nigeria, Humphrey Geiseb, and his wife, Lena, at the Government House in Benin City, Governor Obaseki expressed his eagerness to foster increased collaboration for economic growth and mutual benefits arising from expanded bilateral trade relations.
Governor Obaseki emphasized the historical ties between the two nations and the need to extend this cooperation to the sub-national level. He stated that, "Businesses and citizens live in the States, and I am not surprised that many countries like yours and diplomats like you go into countries to see how to do business together, taking advantage of the bilateral agreement and other agreements already established by the two countries."
Highlighting the potential for collaboration in areas such as technology, management services, and livestock production, Governor Obaseki added, "Namibia has a strong economy and has challenges like any other African country but has established global competitiveness in other areas, and that is where we would like to collaborate with you."
He also stressed the importance of addressing protein shortfalls in Nigeria and exploring opportunities in Namibia's successful livestock industry.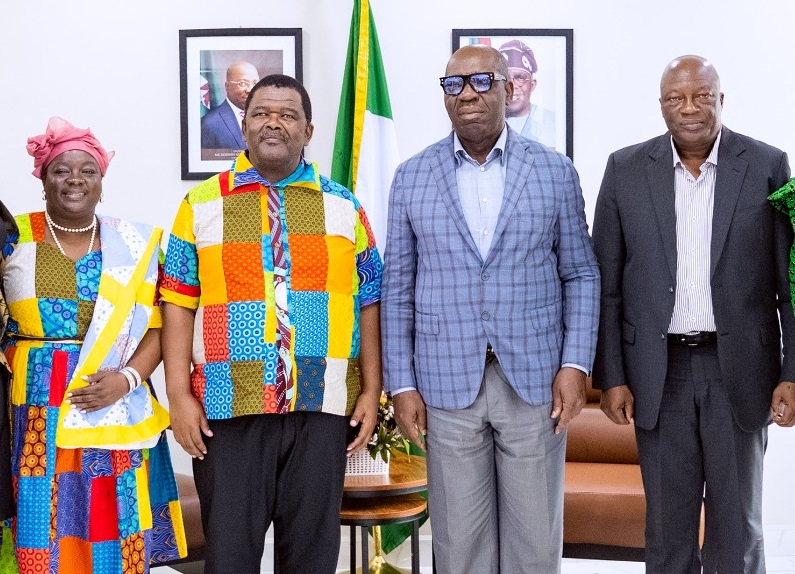 Governor Obaseki expressed optimism about future engagements, saying, "We believe this is the first of many visits, and we would take time out to come and see you in Abuja and commence further conversation on these areas of cooperation."
In response, Ambassador Geiseb praised the historical relationship between Nigeria and Namibia and their continued cooperation in various areas.
He affirmed that the aim of the visit was to strengthen ties between Edo State and Namibia, identifying Edo State's numerous investment opportunities and expressing hope for his country's participation in the Benin Trade Expo.
"There are many opportunities for cooperation and bilateral trade in various areas as the governor has expressed the readiness of the State to work with Namibia in the areas of animal husbandry as we work to produce quality beef and export the same to the rest of the world,"  Geiseb stated.
The discussions between Governor Obaseki and Ambassador Geiseb mark a significant step toward fostering economic growth and collaboration between Edo State and Namibia, further solidifying the ties between these two nations.
Credibility and transparency is our DNA at Prime Business Africa'. We strongly believe in the role of media as a watchdog of the society that powerfully promotes accountability and transparency in government.
By contributing to Prime Business Africa, you are helping to sustain good journalism and making sure that it remains free to all.
Support Investigative Journalism and Mentorship
Courageous Journalism of Truth,Transparency and Development is in the DNA of Prime Business Africa; By donating as little as N1000 or $1 today, you are helping to keep credible journalism and life-changing information free for all.