Brazilian defender, Dani Alves, was on Wednesday sentenced to 18 years in Brazilian Federal Prison for raping a woman in a Barcelona nightclub.
The claim was made by the woman last month (December 2022) and the record-holder in World Cup appearances for Brazil was subsequently arrested.
Alves was said to have slapped and raped the victim in the bathroom of the nightclub.
The lady reportedly recognised a tattoo on his abdomen while he had canal knowledge of her.
A judge heard testimony from Alves, the woman, and a witness, last week Friday, in Spain and remanded him in a Spanish jail.
READ ALSO: Barcelona Reach Agreement Over Dani Alves Return To Former Club
According to reports in the Spanish media, the victim on Monday relinquished her right to financial compensation if Alves is convicted, saying she "just wants to ensure that justice is done and that the soccer player goes to prison".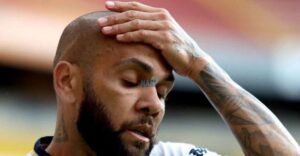 Dani Alves' former wife, Dana Dinorah in a TV interview, said the 39-year-old footballer could not have committed the crime he was being accused of.
She said she is living a nightmare after his arrest and incarceration and insisted he would "never" commit the sex crime he has been accused of.
However, a court found him guilty of the crime and sentenced him, putting an end to his football career of over two decades.
Dani Alves was the oldest member of the Brazilian national team at the 2022 FIFA World Cup in Qatar.
The family of the former Barcelona right-back is afraid of him being sexually assaulted in the federal prison and has reportedly requested that he is kept in protective custody.