After waiting for many hours in long queues in front of one of the NNPC retail outlets in Port Harcourt, commuters on Wednesday afternoon angrily refused to buy Petrol when the station finally opened with a shocking news of hike in price.
READ ALSO: Fuel Subsidy Removal Okay But Should Be In Phases – Economic Expert
A video trending online showed people with their vehicles, packed in long queues in front of the NNPC mega filling at Lagos Bustop Port Harcourt. Voices of some of them were heard saying they were not buying if NNPC does not bring down the price to what it use to sell.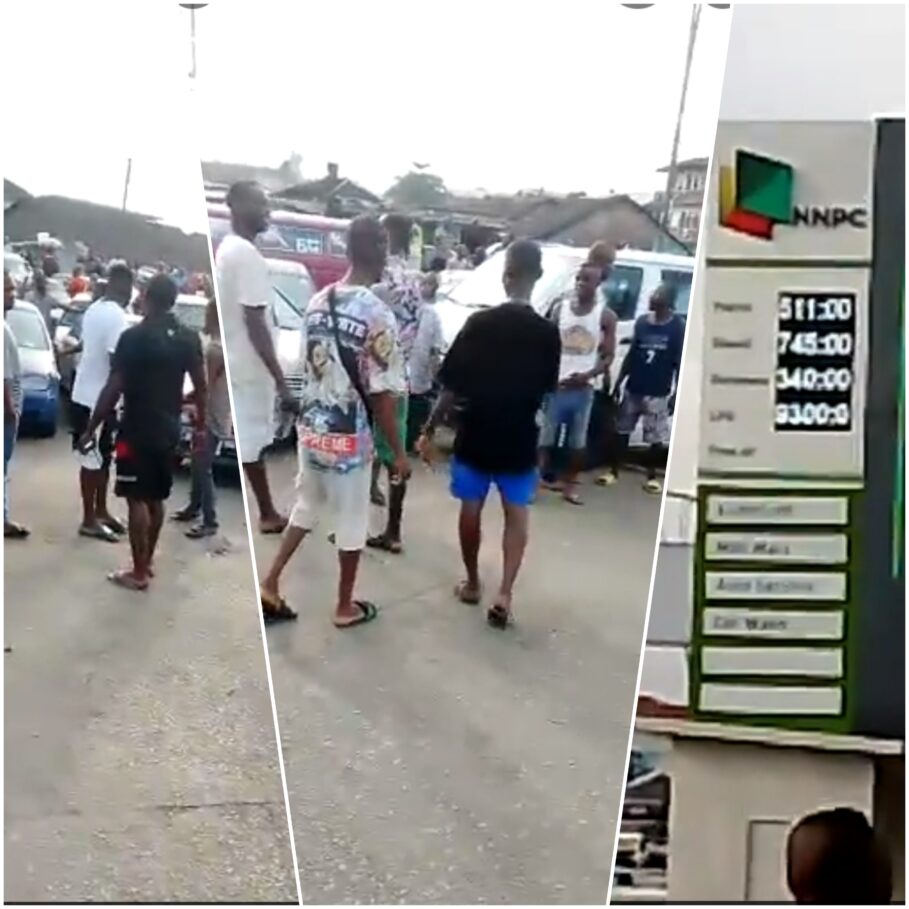 The situation was caused by the sudden announcement of increase in pump price of Premium Motor Spirit (PMS) by the NNPC authorities on Wednesday.
The retail outlets increased their pump price from ₦195 to ₦511 per litre, representing 162 per cent increase.
The price increase was confirmed in a statement signed by the NNPC Chief Corporate Communications Officer, Garba Deen Muhammad, released on Wednesday, 31 May.
Muhammad said the increase was due to "the current market realities."
It also confirmed the full deregulation of the downstream sector of the Nigerian petroleum industry with petrol price now determined by dynamics in the market.
The statement read: "NNPC Limited wishes to inform our esteemed customers that we have adjusted our pump price of PMS across our retail outlets, in line with the current market realities.
"As we you strive to provide you the quality service we are known for, it is pertinent to note that prices will continue to fluctuate to reflect market dynamics.
"We assure you that NNPC Ltd is committed to ensuring ceaseless supply of products.
"The Company sincerely regrets any inconvenience this development might have caused."We greatly appreciate your continued patronage, support and understanding through this time of change and growth."
Price of PMS has skyrocketed since Monday following the announcement by the new president, Bola Ahmed Tinubu, of the decision of his government to end fuel Subsidy.
Mr Tinubu during his inaugural address after taking the oath of office as the 16th president of Nigeria, explained that to continue with subsidy regime won't be feasible as there is no budgetary provision by the previous administration for it, beyond June 2023.
The declaration was greeted with massive rush to filling stations by Nigerians who consequently, engaged in panic-buying.
With the action, long queues resurfaced in petrol retail outlets across the country as many marketers also reportedly began to hoard the product while the ones selling hiked the price. While some are selling at ₦650, it is already being sold at ₦750 in black market.
This has led to sharp increase in transport fare as motorists not only buy at exhorbitant prices, but also spend long hours in filling stations waiting for turn.
Support Investigative Journalism and Mentorship
Courageous Journalism of Truth,Transparency and Development is in the DNA of Prime Business Africa; By donating as little as N1000 or $1 today, you are helping to keep credible journalism and life-changing information free for all.