Nigerian human rights activist and legal practitioner, Kayode Ajulo has condemned the continued detention of former Nigerian Deputy Senate President, Ike Ekweremadu in the United Kingdom over allegations of human trafficking and organ harvesting.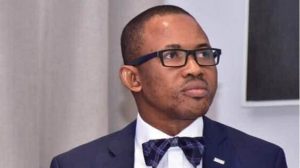 Ajulo who was present at the Central Criminal Court popularly Old Bailey during the last Court sitting on the matter in solidarity with Ekweremadu, argued that the alleged offences are bailable and sees no reason the lawmaker should be kept in detention.
Ajulo expressed his displeasure on the matter through a zoom chat with journalists.
Ekweremadu and his wife, Beatrice, are standing trial for alleged conspiracy to traffick one David Nwamini Ukpo from Ebonyi State, so that his organ could be removed and given to their daughter, who has kidney problem.
The wife had been granted bail in July.
During the last hearing, Ekweremadu didn't appear physically but through a video link.
The judge fixed October 31 for hearing and indicated that the trial will commence in May 2023.
The constitutional lawyer stated that it would be most unfair to use the fact that former governor of Bayelsa State, Diepreye Alamieyeseigha and former Plateau State Governor, Joshua Dariye, set ugly precedent by jumping bail during their trial as reasons to deny Ekweremadu bail.
He noted that Ekweremadu being a PhD holder in law and also a lawmaker would not behave in similar manner. He added that since the trial will commence in 2023, it would amount to infringement of the lawmaker's fundamental rights keeping him in detention in perpetuity.
Ajulo said the regard accorded Beatrice Ekweremadu should equally be extended to Ike Ekweremadu, pointing out that he remained a respected Nigerian politician with high moral rectitude and that he is a lawyer with integrity, known for his sheer advocacy in the defense and promotion of rule of law, hinting that such individual cannot jump bail.
Ajulo said, "there is no basis for keeping the man in custody in perpetuity and denying him freedom.
"The unfair precedents of bail jumping set by former Bayelsa State Governor, Diepreye Alamieyeseigha and former Plateau State Governor, Joshua Dariye shouldn't be used as reasons why Ekweremadu shouldn't be granted bail.
"Here is a man, who is consistent in defending and promoting rule of law. He isn't just a lawyer, but he has Phd in Law. So, the likelihood of him jumping bail as a parliamentarian cannot arise.
"Denying Ekweremadu bail will amount to violation of his fundamental rights and this also negates the principles the United Kingdom stands for, which is justice, fairness, rule of law and equality.
"But unfortunately, having appeared in Old Bailey to see for myself if the fundamental rights of Ekweremadu and that of wife have not been violated, with what I saw, I pray that Judge Richard Marks QC will be firm and fair going forward.
"United Kingdom has no constitution, but the system subscribes to human right. This is the home of rule of law, writ of rights, habeas corpus, and the United Kingdom is a signatory to the Universal Declaration of Human Rights (UDHR), which is an international document adopted by the United Nations General Assembly that enshrines the rights and freedoms of all human beings.
"This case has generated humongous interest. Don't forget that Nigerian government as a sovereign state is interested, the National Assembly is interested, the likes of Senator Adamu Bulkachuwa, Senator James Manager, Hon. Ndudi Elumelu, the Minority Leader of Nigeria's House of Representatives, an ranking member and others flew in from Nigeria for the matter.
"Emeka Etiaba, SAN and other senior members of the Bar were there," the senior lawyer and rights activist added.
Ajulo said he was deeply troubled emotionally when he saw that the former deputy senate president could not appear physically for the hearing.