Sequel to his one-year suspension by the Ikoyi Club for physically assaulting a fellow member, husband of multi billionaire business tycoon Folorunsho Alakija, Mr Modupe Alakija has defended his case before the Club and has consequently filed a lawsuit against the complainant, Ashish Gajjar, for defamation of his character.
The Ikoyi Club had on Tuesday announced the decision to suspend Alakija for violation of the Rule 9 (c) of the Club's Rule Book in a statement signed by the Honourable Secretary of the Club, Bamidele Ibironke.
Alakija stated that he had to stop the complainant from using the camera of his mobile phone to videotape him (Alakija) after a discussion with the protocol staffs of the Club.
Alakija, a distinguished lawyer gave a detailed account of what happened that eventually led to his penalty in a letter addressed to the Honourable Secretary.
Alakija's letter read in part: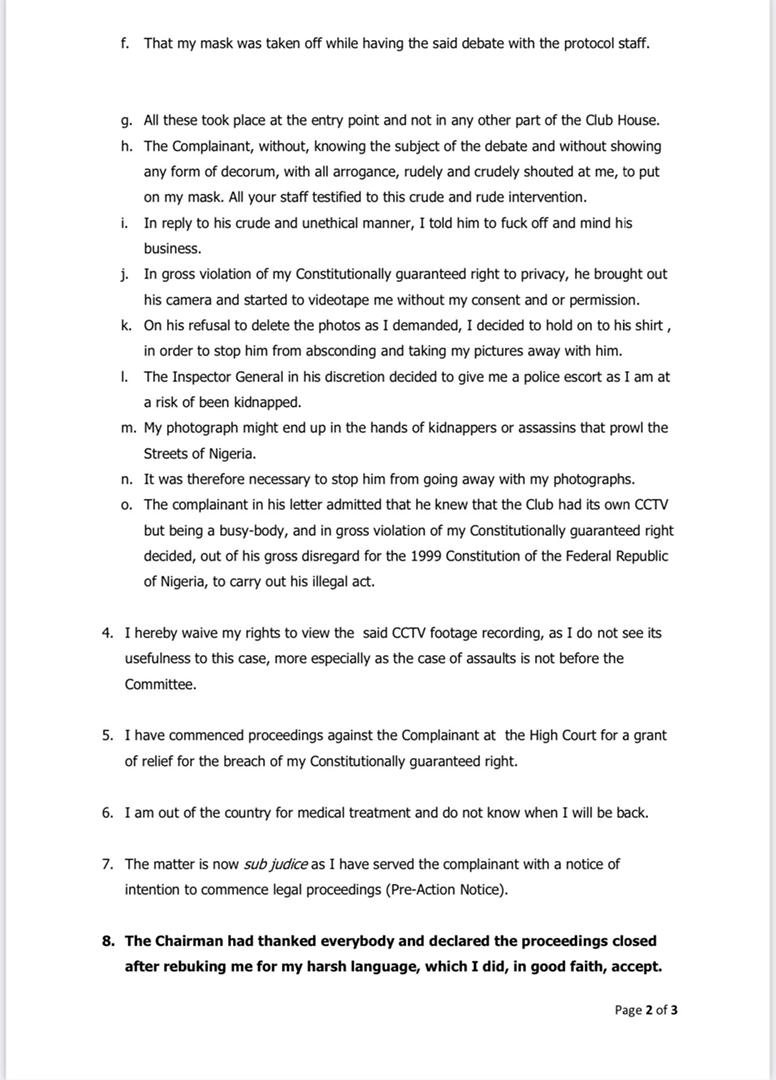 "I came into the premises of the Club with my police escort. The police escort was in my car and only came out to open the door of my car in front of the Club House and drove away," Alakija began in his defense.
"On entering the Club House, I observed all the protocols including of wearing a mask.
"There was a friendly discussion between the protocol staffs and I on whether an officer of the Nigeria Police Force duly empowered and armed under an extant, law of the National Assembly could be stopped from entering any premises in Nigeria, except certain parts of airports and airplanes.
"That my mask was taken off while having the said debate with the protocol staff. All these took place at the entry point of the Club House.
"The complainant, without knowing the subject of the debate and without showing any form of decorum, with all arrogance, rudely and crudely shouted at me, to put on my mask. All your staff testified to this rude and crude intervention," Alakija explained.
"I'm reply to this crude and unethical manner, I told him to f*ck and mind his business. In gross violation of my constitutionally guaranteed right to privacy, he brought out his camera and started to videotape me without my consent and or permission to," Alakija stressed.
The business mogul insisted that he had to pressure the complainant as the pictures of him could be in the possession of kidnappers which necessitated the Inspector General of Police to hand him a police escort.
"The matter is now sub judice as I have served legal proceedings (Pre-Action Notice).
"The Chairman had thanked everybody and declared the proceedings closed after rebuking me for my harsh language, which I did, in good faith, accept," Alakija concluded.
The suspension took effect from December 1st, 2021 to November 30th, 2022.