RENOWNED agropreneur and Chairperson, Agriculture and Agro-allied Group of the Lagos Chamber of Commerce and Industry (LCCI), Mrs Edobong Akpabio, speaks on the need to adopt Climate Smart Agriculture (CSA) by farmers in Nigeria for sustainable agricultural practices.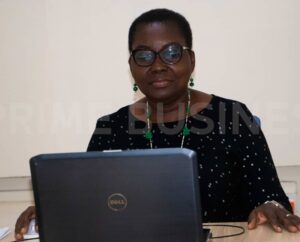 What are the roles of the agricultural arm of the Lagos Chamber of Commerce and Industry?
The Lagos Chamber of Commerce and Industry is one of the oldest chambers in Africa, it is actually the second oldest in Africa and the oldest in West Africa, more than a 100 years old.
The main objective of the chamber is to deepen development of the organised private sector. What that means is that the chamber provides support for members that are in different business sectors, as many business sectors as they can support.
Agriculture and agro-allied group is one of those business sectors.  It has always been there.
Agriculture in Nigeria wasn't something that was developed as it is now. It was there before oil, and after oil, we began to experience a lull, but now it has picked up, more than 20 years now.
The chamber has been playing its role in ensuring that the sector is developed, and is sustainable. It pulls together members who are players in that sector in different levels of the value chain.
So we have sub-sectors like the crop – business owners who are in crop, from production to marketing.
We have members in livestock, we have agro processors – primary and secondary, and we also have agro services. There are businesses that provide services to the agricultural sector.
We have businesses that provide training for agribusinesses in terms of standards. They are all in the agriculture and agro-allied sector of the Lagos Chamber of Commerce and Industry.
Looking at agribusiness activities in Nigeria, how would you describe them especially in the last one year, given the Covid-19 pandemic and all that?
Agriculture was doing well, at least it was growing. If you check the data from National Bureau of Statistics (NBS), you can see that it was a consistent growth in the agricultural sector, but when the pandemic came, it actually affected everyone, it wasn't just agriculture.
Now, some people might say that agriculture of most things was considered as essential services, food was still being moved around, but it was also affected in supply chain. For instance, there was no movement in Lagos, so we didn't have access to bringing food regularly, moving food from one state to the other.
We were also having difficulties in farm production because workers were not necessarily going to farm, and security operatives were not very cooperative.
So, we were actually impeding movement of other things that are input from the farms, but were not food. For instance, when people would move day-old chicks, they had issues.
We had issues with people having to get to their farms because security operatives would stop them. And then, we were having mortalities especially for the livestock, because we need to take care of them every day.
So the farmers couldn't go to their farms to take care of their livestock, that was the reason we were having high mortality. We were having fluctuations of distribution.
Don't forget that restaurants, markets and offices were shut down. A lot of farmers were distributing to those markets, before the pandemic, so we had a whole lot of products, because people couldn't absorb the excesses that those markets were supposed to contain.
These were some of the difficulties that they had and it affected a lot of businesses, many of them shut down, don't forget that a lot of them are running on loans.
With no support, when they could not fulfill their obligation, many of them, when banks reopened, were shut down.
Post lockdown, a lot businesses started again, it's difficult, but they are picking up. We are still trying to recover from the Covid-19 pandemic.
It is really getting better, at least, first quarter of this year, from the NBS statistics, we had over 22% of productivity, that's very encouraging for us.
Looking at the output so far according to statistics, and looking at the issue of hike in price of food commodities, what could be the missing link?
There is a global problem of food supply. It's not just Nigeria, it's global. It came as a result of the Covid period, so it is not just Nigeria.
Waking up from there, there is issue of demand and supply. The good thing is that, there is still some food we can have even in short, short period. It is just demand outstripping supply, and we are recovering.
But we also have other struggles. We have climate change difficulties. A lot of our farmers are smallholder farmers, they also need support against the effects of climate change, it is affecting majorly weather extremes.
We have extreme dry periods, we have extreme wet periods.  Rain doesn't fall the way it should even in rainy season.
This is August. We also have some irregular rain, just experiencing floods. There are areas that have not experienced rain and in a proportion that is good for farming, they are having drought right now. Many of them who planted earlier, are losing their crops due to poor rain.
So the expectation of that harvest is not there, so shortage of food is imminent. Then, one needs to support with irrigation, but many of them cannot afford irrigation. They have to be supported. Until that is done, demand will be more than supply.
We also have insecurity issues. The last time I checked, more than 40% of farmers nationwide are not in the farms due to insecurity.  We have farmers who have been killed, we have farmers who have been injured, we have farms burnt, destroyed.
These are areas where we have shortages. Most varieties of food are not in the market. Definitely, demand will be more than supply.
We also have other petty issue like theft, communal conflicts, which affect farming. All of that have reduced the quantity of food products that should go into the market.
So, first experience we have is that food prices will go up. That is why food is so expensive. If we are to import a lot of them, the cost of foreign exchange is also high. Even if you are to import the foods, the price is still there.
In terms of funding, is it encouraging for farmers in the sector?
The good thing is that CBN has intervened, which has really given us the respite, because farmers cannot afford commercial bank rates. It is so discouraging, it's so frustrating.
So CBN has come to their rescue by providing funds with interest rates that are affordable for farmers. So that's good.
Now, we are also having some other funding coming from grants, coming from soft loans, coming from other development banks, also encouraging to farmers.
But these will not curb the food crisis situation except insecurity, climate change, criminality are addressed.
In terms of climate change, are there ways or programmes that can be adopted for sustainable agricultural practices, is there any way the chamber is coming into that?
Yes, the chamber has been working with a group to support farmers with requisite climate agriculture trainings, to enable farmers know how to continue to do their businesses, within this difficulty.
That is what we call climate Smart-Agriculture. There are training programmes. The chamber cannot reach out to those who are not its members, so the chamber expects each an every one of us to go out there and work with the farmers who are directly affected; like I said earlier, the smallholder farmers.
They cannot afford to minimise the effects, they need training on how to plant, which is different now than they use to do like in hundred years ago.
They need that training, that is where the extension services come in. Government has been providing extension services up until 15 years ago; the services began to go out of trend, but we need it back.
So the chamber expects us to provide advocacy to bring back the extension services closer to the smallholder farmer's in the rural areas to teach them climate smart agriculture, but provision of infrastructure is key.
Now, the seed council is here to regulate the quality of seeds. There are seeds for all kinds of whether, and there are seeds that are suitable for our own environment.
The national seed council is here to ensure that the seeds we are using, are certified, are suitable for us to use.
We need to get those seeds into the hands of farmers because those seeds are suitable for climate-smart agriculture.
We need to teach them how to plant; we need to introduce useful and functional implements for them that will help them increase their productivity.
But there are areas that need to be addressed. For instance, provision of water, provision of drainage, there is just so much the farmer can do after all of that.
We also need to teach them to embrace insurance. Many of them do not understand insurance, they do not know the importance of insurance.
Many see insurance as about having to do with cars only. We are trying to make them understand and engage in insurance and also working with insurance companies to understand this part of our work so that they can encourage our farmers to start choosing affordable premiums, and give them the cover, so that they don't lose everything.
This is because when a farmer records loses, it is not just him  but the entire nation, because we are dependent on what they produce.
As an Agripreneur, what specifically does your company produce?
Our major business area is agro services where we provide training and capacity building for farmers. So we work with farmers; we train them on good agricultural practices, working in the farm. We also train them on how to manage agriculture as a business.
Agriculture is no longer a social activity, it's now a business. It doesn't matter how small the business is.
Whether it is at micro level;  small size level or medium  level, we teach them how to manage it for sustainability and profitability.  So we train them on that.
We also support them in getting information about funding opportunities and about other business opportunities. The council is also able to provide link between them and service providers.
We train them especially when we have new implements. We have things like planters.
We also work with NGOs and charity groups, who want to support them with training, funding and capacity building.
We also manage farms for investors. There are many investors out there, who want to invest, but they do not have the knowledge, they do not have the capacity. So, they trust us to manage their agribusiness, it doesn't have to be a farm.
Sometimes, we advise them too.We are manage cassava, maize, citrus, cashew, avocado, plantain, and banana farms for clients.  We also have some other processing activities like garri, etc., for clients, not ours directly.
We have demonstration farms we use for training. We produce, banana, plantain, citrus, bee making (honey), we also want to go into rabbit rearing.