All hell was let loose on Wednesday, 18th May 2022 at Dei Dei Market, Abuja as traders and commercial motorcyclists popularly called "Okada riders" clashed over the death of a woman.
The woman who is of Igbo origin, was said to have fallen off a motorcycle as a result of reckless riding by the commercial motorcyclist and then crushed by an incoming trailer.
Reports have it that the clash began after angry witnesses seized the motorcycle involved in the accident and burnt it to ashes, despite efforts by Okada riders to rescue it.
The action enraged the motorcyclists, mostly Hausas who reinforced and launched an attack on the traders who were majorly Igbos.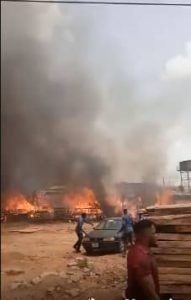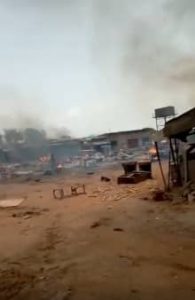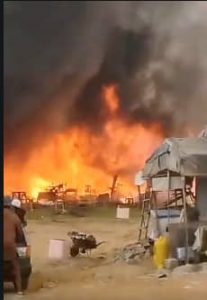 In an attempt to avenge the destruction of the motorcycle, the riders set the shops at the Dei Dei Timber Market on fire.  Because of the high flammability of woods, lots of goods have been lost to the raging inferno with several people injured.
Meanwhile, Minister of the Federal Capital Territory (FCT), Mohammed Bello, has confirmed that four persons were killed in the crisis.
Bello who inspected the scene of the crisis on Wednesday, ordered indefinite closure of the market for investigation to be carried out in what happened.
He further stated that the incident has no religious or ethnic misunderstanding because all people in the area have lived in peace.
"This is simply the matter of criminals and hoodlums taking the laws into their hands," Bello stated.