This article focuses on the child actors and musicians born in the 80s and 90s that serenaded our screens but are now grown up.
Some of them are still strong in their careers while others have either delved into other disciplines or currently studying to return to their first love.
This list is pruned down because there are so many that we had to select seven that were most popular among the rest.
1. Regina Daniels
Regina was a child actress that featured in several big movies.
Until this day, the beautiful lady is still in demand as producers hand her scripts. She has been picky when it comes to roles after her wedding to Senator Ned Nwoko who is estimated to have a net worth of $1.4 billion (N335 billion).
Some of Regina's movies include; The Winds of Power, Anger of A Wonder Girl, Merry Men 2, The Lion Girl, From Grass to Grace, The Restless Ghost, The Chronicles of Narnia etc.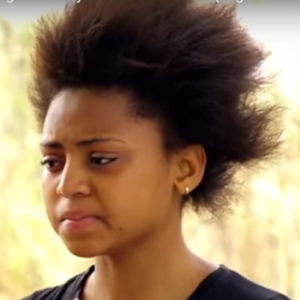 2. Sharon Ezeamaka
Back in the late 90s and early 2000s, we were used to seeing a certain little, lively girl on our screens play the character of an inquisitive child particularly known for asking her dad or mom in the movies if she liked (love) a good-looking man or woman that could make a good foster father or mother for her!
Most of us would ask rhetorically: "What audacity" and laugh at the cheeky question the young woman's character asked.
Sharon Ezeamaka started acting as a five-year-old girl when she made her debut in the flick titled 'Narrow Escape' which featured the legendary Pete Edochie.
She was also in the comedy thriller, 'Dorathy My Love' (her character was the love interest of another child actor, William Uchemba) which also starred the late Sam Loco Efe.
The delectable actress also twinkled in the movie titled 'Dear Mother' where she played the daughter of Hilda Dokubo.
Ezeamaka has acted in television series which include: Shuga, Kala & Jamal and is now a producer and commercial model.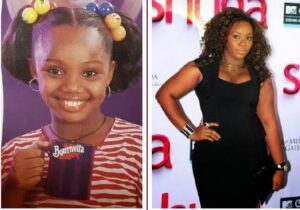 3. Ramsey Noah
Some of those reading this piece would ask: "Ramsey Noah"?
Well, yes. Ramsey Noah was not your regular kid actor but he did cut his drama teeth in a very popular television commercial.
Noah was the little boy on the cover of the Blue Band margarine we all bought from the shelves of supermarkets and those aboki stores.
The actor cum movie director was only 8 years old when he was part of that commercial which launched him into mainstream acting as his potential was there for all to see.
Ramsey has become a household name and has acted in over 200 movies and counting since then.
Just a few of them include; Silent Night, Deadly Men, Merry Men, and Rattlesnake (not the original version produced and directed by the late Amaka Igwe).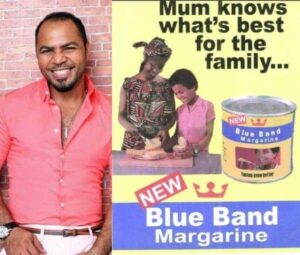 4. Benita Okojie
Benita Okojie was a young singing sensation that enthralled us with her singing prowess and angelic voice.
The gospel song 'Osemudiamen' was like an anthem especially among children back in the 90s and early 2000s.
Benita is a graduate of English language from Redeemers University and she still sings. Her last single, 'Kabiyesi' featuring gospel music act, Kenny K'ore was released in February 2015.
Many young men of her age, and those a bit older than her, considered her a good girl brought up in a Godly home and were already fantasizing about their futures together.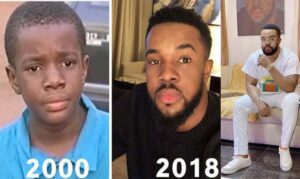 5. Williams Uchemba
This was very popular. He was arguably the young boy among his peers that was getting more roles than the rest.
Williams Uchemba acted the roles of a little boy from humble background or one whose stubborn streaks got him into trouble.
His performance in the movie 'Dorathy My Love' was perhaps the best of the many wonderful films in which he acted.
In the movie, as narrated briefly in this piece, he was a boy that had a growing fondness for the rich little girl played by Sharon Ezeamaka.
Their chemistry on set reminisces with the love story we are used to from Bollywood.
Today, William is a successful actor, comedian, and content creator. He is also the Africa Youth UN Ambassador.
READ ALSO Williams Uchemba, Wife Welcome First Child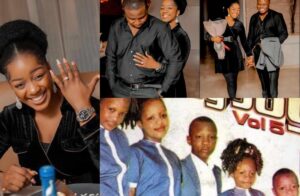 6. Peter Bunor Jr.
Another fan favourite who proved to be a good child actor was Peter Bunor Junior.
Peter's father was the more famous one but sadly he is dead.
There were unconfirmed reports that before his demise, Bunor Snr demanded that his son quit acting but information later available countered that initial thought.
The younger Bunor is back to school and pledged that he will back to movie locations when the time is right.
7. Rejoice Iwueze
Remember the Destined Kids?
That musical group of six siblings blew our minds in the 2000s with lovely gospel songs.
Rejoice, who is the second child, was the lead singer of the group whose hit track was 'Joy joy joy'.
The other siblings were Favour, Joshua and Best. Their parents Mr Samuel and Mrs Love Iwueze were pastors and they were involved in those evergreen children's songs.
Rejoice and Favour are now happily married.