We dare to ask: What colour is your bottle? How much do you pay for a bottle or glass of beer in your city?
In the latest report released by Statista, the German company that specialised in market and consumer data, prices of beer were compared in select cities around the world.
The survey listed Dubai, Oslo, New York, Melbourne, London and Berlin as the most expensive cities to drink a glass of beer. On the flip side, Sao Paulo, Prague, Beijing, Lagos, Almaty and Hanoi have the cheapest average price of beer.
Harrah!!! Can you see what we see? Nigeria's most populous city and commercial nerve, Lagos, not only made the list but it is the only African city on the list.
Statista revealed that in the bustling city, it would cost you an average of $0.96 to quench your thirst with a 0.51 litre bottle of beer. Oh well, this didn't really come as a big surprise. Did it? For a bustling city full of more than 20 million human beings, it is not surprising that beer is widely consumed here. As a matter of fact, Nigeria leads the pack of Africa's top 10 beer drinking countries, according to statistics obtained from Global Data.
Interestingly, most of the beer consumed in Lagos and other parts of Nigeria are produced locally. Nigeria has quite a number of brewers. However, the three major ones are Nigerian Breweries Plc which is backed by Heineken, Guinness Nigeria Plc which has backing from Diageo and International Breweries which is backed by AB InBev.
The top three brewers in Nigeria are currently engaged in a very stiff competition for market share. Information obtained from Proshare showed that Nigerian Breweries single-handedly controls about 60% of the market share. And checks Prime Business Africa showed that the company earned more than $1 billion in revenue selling beer and other beverages in FY 2021.
International Breweries and Guinness Nigeria have very similar market shares at 22.4% and 22.1%, respectively. The former earned about $423.5 million worth of revenue in FY 2021. On its part, Guinness Nigeria reported a revenue of $113 million for its first quarter period ended December 31st, 2021.
Okay.
Talking about the six cheapest cities to drink a beer in the world, see again the countries that made the list:
Sao Paulo
Prague
Beijing
Lagos
Almaty
Hanoi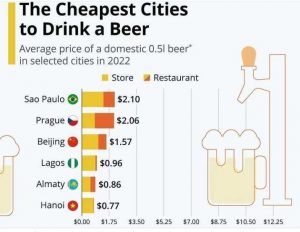 Alright! Now tell us, did you have some bottle over the weekend? Or you like to enjoy your favourite beer beverage during the week?
Support Investigative Journalism and Mentorship
Courageous Journalism of Truth,Transparency and Development is in the DNA of Prime Business Africa; By donating as little as N1000 or $1 today, you are helping to keep credible journalism and life-changing information free for all.