In a recent Instagram post, Obi Cubana expressed his gratitude to @samsung_nigeria for gifting him a box containing the Samsung Galaxy Z Fold 5 Thom Browne Edition. With a caption that read, "When your brand keeps spoiling you with all the luxuries life has to offer! Unboxing one of the MOST LUXURIOUS boxes of devices ever made by man, on earth!"
Here are 10 key aspects to know about the Samsung Galaxy Z Fold 5 Thom Browne Edition:
Distinctive Design: The Thom Browne Edition boasts a unique and stylish design, incorporating the fashion designer's signature red, white, and blue stripes, along with black pebble leather and other special details.
Special Edition Package: The limited-edition phone comes in a Thom Browne-style box and includes a Thom Browne Edition Galaxy Watch 6, a special edition S Pen, leather cases, and charging accessories, all meticulously coordinated in matching colors.
Limited Availability: The Galaxy Z Fold 5 Thom Browne Edition will be available in limited numbers, emphasizing the exclusivity of this luxury device.
 Early Purchase Recommendation: To secure this exquisite device, Samsung advises potential buyers to make early purchases, considering the limited availability.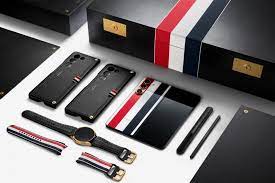 Stylish Exterior: The Thom Browne Edition features the designer's signature red, white, and blue stripes on the foldable's exterior, with fabric texture etched on the rear glass. The black frame is accentuated by a gold hinge, and the camera lenses sport golden rings.
Collaboration History: This collaboration between Samsung and Thom Browne is not the first of its kind, as the company has previously partnered with the American fashion designer to launch special editions of smartphones and wearables.
READ ALSO:Apple To Address iPhone 15 Overheating Concerns, Vows Quick Fixes
Foldable Design: The Galaxy Z Fold 5 stands out in the market with its unique foldable design, offering a distinctive experience to users.
Premium Price: Priced higher than the regular Galaxy Z Fold 5, the Thom Browne Edition caters to those seeking a device that exudes both style and luxury.
Unique Packaging: The limited-edition phone comes in a special Thom Browne-style box, creating a black-tie effect that adds to the overall premium experience.
Memento-Worthy Packaging: Samsung suggests using the Thom Browne-style box as a memento after unboxing, further enhancing the value and uniqueness of the entire package.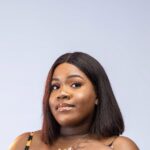 Somto is an Entertainment Reporter with a passion for uncovering the latest stories in the world of entertainment. As a dedicated journalist, Somto delivers in-depth reporting, exclusive interviews, and breaking news coverage.
She covers a wide range of topics, from celebrity interviews to industry trends and film reviews.
As an Entertainment Reporter for Prime Business Africa, She continues to provide comprehensive and insightful coverage of the entertainment industry, offering readers an insider's perspective on the latest developments and trends. She is a trusted source for breaking news, exclusive interviews, and thought-provoking analyses.
Somto is dedicated to providing valuable information and entertainment to her audience while upholding the highest standards of journalistic integrity.
Follow Somto on social media:
LinkedIn: Somtochukwu Bisina
#EntertainmentReporter #MediaProfessional #Journalism