President Muhammadu Buhari has heaped plaudits on Nigeria's Tobilola Amusan who made history in the early hours of Monday morning (late Sunday in the USA) at the World Athletics Championships in Oregon by winning the gold medal in the Hurdles event reports Prime Business Africa.
Amusan leapt to a record 12.06s following up on her semifinals African record of 12.12s albeit the final's record was wind-aided and so was not considered official.
The feat is the first time a Nigerian would win gold at the Championship in its 40-year history.
Amusan melted the hearts of most Athletics faithful when she could not hold back the tears as the Nigerian national anthem was played after receiving her gold medal.
A statement signed by the Senior Special Assistant to the President (Media and Publicity) Femi Adesina read thus:
"President Muhammadu Buhari expresses heartfelt congratulations to Tobi Amusan for winning the women's 100m hurdles gold for Nigeria at the World Athletics Championship 2022, setting a new world record in the semifinals of the athletic event and becoming the first Nigerian to win a World Championship.
"The President joins millions of Nigerians in celebrating this outstanding feat by a compatriot and two-time African Games champion, who in one night stunned the athletics world with her superlative and stellar performance.
"The President thanks the track superstar for making the Nigerian national anthem resonate again from the international podium, leaving the nation with the excitement and unforgettable memories of tears of joy and triumph; hope and victory; incredulity and belief.
"President Buhari says the legendary career and achievements of the golden girl will continue to inspire the upcoming generations of Nigerian athletes to achieve spectacular success.
"The President also commends Ese Brume for representing Nigeria with honour and pride, winning silver medal in the Women's long jump event.
"The President lauds Team Nigeria for displaying courage, integrity and good sportsmanship at the world stage, proving that with hard work and determination, success is achievable."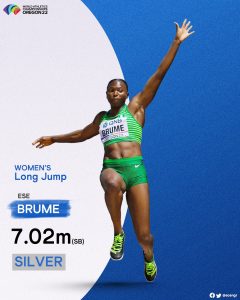 Former Anambra state Governor and Presidential candidate of the Labour Party, Peter Obi was also in great mood and reiterated that the feat of Amusan showed why the country need good leaders to complement the talents of the Nigerian youth.
"Sports remains a very veritable avenue to harness the talents of our youths, create jobs and above all, contribute immensely to much-needed peace and unity in our dear country Nigeria – PO.
"I sincerely congratulate Tobi Amusan on winning the 100m Hurdles gold medal and setting a world record.
"Her tears at the ceremony poduim while the Nigerian anthem played, connects that our dear country needs leaders to match the talents and ambitions of her youths – PO."