There is a massive revolt within the governing party against President Buhari, and my fear is that this may end in the President leaving office in utter humiliation. Although oftentimes, outgoing leaders appear lame ducks with dwindling influence, they still command the respect and admiration of their cabinet members and party members. But in the case of Muhammadu Buhari, there are obvious scorn, contempt, and disdain from his party members, including some governors, whom, just months ago, were fawning all over the old man.
Governor Nasir el Rufai went around some TV houses last week announcing that "some elements in the Villa, who are close to the President, want APC to lose this election.'' Although he later clarified that he was not referring to the president, the hidden message in his claim was that Buhari is either too demented to be aware that his aides are sabotaging APC, or he just doesn't care about the fate of the party that brought him to power. In whatever way it is interpreted, El-Rufai's claim wasn't quite commendatory of the President.
This week, the Kaduna governor doubled down on his assertion, informing party members in Kaduna to ignore the currency change policy. "Do not reject your old naira notes. Don't bother to take them to the banks. Accept them and keep them. If Sani is elected governor, and Asiwaju Bola Tinubu is elected President, we will change this policy,'' the governor enjoined the audience.
Senator Uba Sani is the APC governorship candidate in Kaduna. El Rufai is openly asking his people in Kaduna to go against the President and his main monetary policy because, in his wisdom, Tinubu will not only reverse the policy but will also protect them. Adams Oshiomhole, another brusque party leader, has also joined the rank of APC henchmen antagonising their party leader and the President. He has been repeating the claim that the CBN had misled Buhari, but he could not explain why the Nigerian leader has not reversed the CBN all this while. People like Oshiomhole must be thinking that Buhari is a Zombie who cannot think for himself. To cap a dramatic week of rebellion, three APC governors (Kogi, Kaduna and Zamfara) have just got the Supreme Court to further extend the deadline for the use of the old banknotes. The President is facing an unprecedented backlash from his party men.
READ ALSO: Bola Tinubu, Udom Emmanuel And The Limits Of Political Innuendoes
Tinubu himself has been particularly disrespectful of Buhari, dating back to the days before the Presidential primary in June. He had recently claimed that the Naira redesign and the intractable fuel scarcity were deliberately contrived to trigger his failure. His campaign has insinuated that the President is not even wholehearted enough in supporting and campaigning for Tinubu. In other words, Tinubu believes that if he fails this election, Buhari should be held responsible. If the governing party loses (and it is not unlikely), I can bet that Tinubu will explode in uncontrollable anger and he will definitely launch a series of visceral assaults against the president. APC governors like El-Rufai who have been promised high-ranking roles in the Tinubu administration will openly denigrate the President. Last year, in the infamous "emilokan'' outburst in Abeokuta, Tinubu had reminded Buhari that he was the one that had singlehandedly made him president in 2015, and that he had never asked for anything in return. Even if, on the other hand, APC wins, there is no reason to expect that Buhari would be more favorite of the Tinubu presidency than persons like Obasanjo or IBB. Tinubu will tell everyone that he won in spite of Buhari's sabotage or roadblock. "They thought that they could stop me with their machinations. But I pass them. I am smarter than them. I am tougher than them,'' would be his standard refrain, even in his inauguration speech.
There is no doubt that the strain of the campaigns is getting to the APC leaders and their enfeebled presidential candidate, and they're taking it out on the President. The remaining two weeks will be quite tough and will bring out the worst in some people in the APC. The President should blame himself for what is befalling him. For his inability or unwillingness to skillfully shepherd his party last Summer to choosing a more urbane and dignified standard bearer, Buhari appeared timid, effeminate, and scared. That set the stage for the unfolding mutiny we have been seeing. Buhari has suffered a rebellion before as a military head of state. The experience traumatized him to no end, according to his wife. Will history repeat itself?
Support Investigative Journalism and Mentorship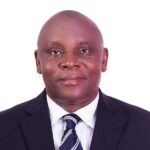 ETIM ETIM is a journalist, banker and author. He has been a member of the Editorial Board of The Guardian, a Regional Manager in Access Bank and is currently a Columnist in Prime Business Africa, The Cable and Businessday newspapers.
He is also the Chief Executive of Stein Meyer Communications, a major media consultancy and the author of the best-selling book, "Akwa Ibom Heroes: Inside Story of the Fight for Abrogation of Onshore-Offshore Oil Dichotomy" and co-author of another book, "Osinbajo Strides: Defining Moments of an Innovative Leader".