Award nominations for stories that help to expand knowledge about Africa by African journalists open from May 3 – June 30, 2023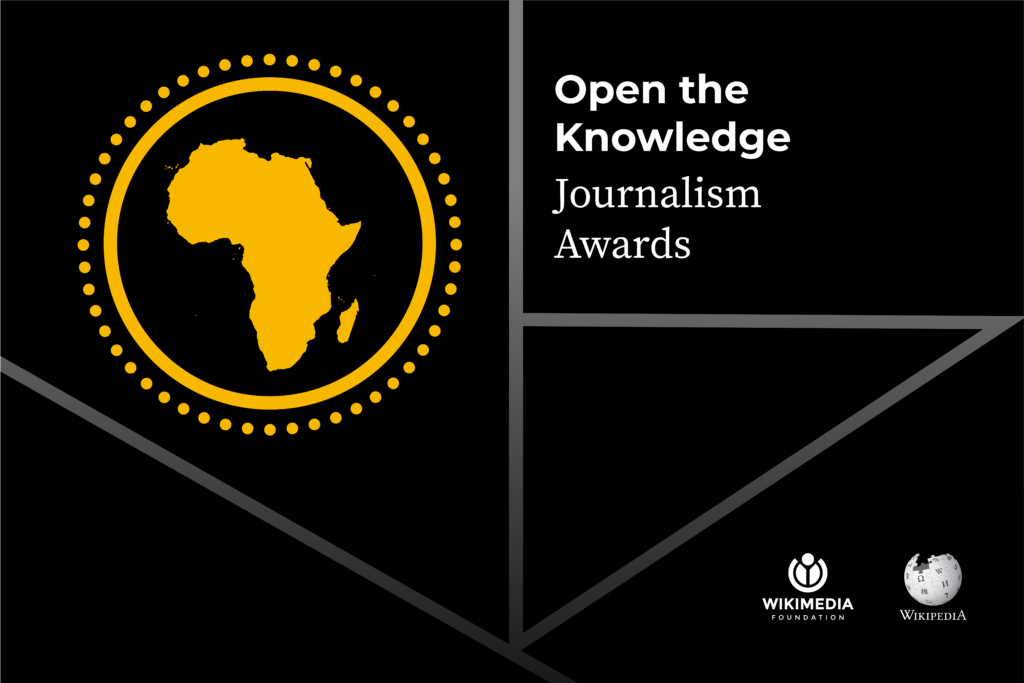 San Francisco, USA May 3, 2023 -/African Media Agency(AMA)/- Africawide – The Wikimedia Foundation, the non-profit that operates Wikipedia and other Wikimedia projects, is today launching the inaugural Open the Knowledge Journalism Awards. Coinciding with the 30th anniversary of World Press Freedom Day, this year's awards celebrate the contributions of journalists in Africa who prioritize diversity, equity and inclusion in their reporting.
The awards recognise the essential role journalists play in creating well-researched articles that volunteer editors use as source materials to develop content on Wikipedia. Journalism that highlights diverse experiences helps to grow the knowledge base on one of the world's most visited websites, so that it is more reflective of the topics, events and people that influence the understanding of culture and history through the ages.
This year's awards will invite nominations for articles written by African journalists that help to close knowledge gaps on Wikipedia and Wikimedia projects. Only 2.5% of geotagged content on Wikipedia covers Africa. In addition, only 15% of articles on Wikipedia are about Africa. This issue reflects knowledge gaps in the wider media ecosystem; new information can only be added to Wikipedia by volunteer editors if it is supported by a citation from a published, reliable source.
"Journalists play a vital role in increasing equity on Wikipedia, ensuring that the world's knowledge is not limited to the perspectives and experiences of a select few. Through Open the Knowledge Journalism Awards we want to celebrate these efforts, shining a light on reporting that helps to close knowledge gaps and uncovers more of Africa's rich history and culture," said Anusha Alikhan, Wikimedia Foundation Vice President of Communications.
The awards capture the spirit of World Press Freedom Day, which highlights the importance of a free press as essential to amplifying diverse voices and experiences. It also aligns with one of the African Union's Agenda 2063 goals, which seeks to increase local content in all print and electronic media to 60 percent.
Nominations for the Open the Knowledge Journalism Awards can be submitted from May 3 – June 30, 2023 at wikimediafoundation.org/journalism-awards. Articles by African journalists living on the continent can be submitted under the following categories:
Arts, Culture, Heritage, and Sports
Health, Climate Change, and Environment
Women and Youth
Digital and Human Rights
Articles must have been published online and in English between January 1, 2022 and June 23, 2023. For more information about the nomination criteria and awards process, please visit the website.
Award recipients will be announced by the Wikimedia Foundation at the Africa Regional Community Conference, WikiIndaba, in November 2023. The first-place award recipient will receive USD 2,000, as well as an opportunity to attend WikiIndaba 2023 in Morocco, where they can share more about their work, and accept a trophy, and certificate of recognition. The second-place award recipient will receive USD 1,500 and a certificate of recognition. Four other outstanding nominees will receive special mentions. All awardees and their work will also be celebrated on the Wikimedia Foundation's website and social media channels.
Distributed by African Media Agency on behalf of Wikimedia Foundation.
For media enquiries please contact:
Gugu Mthimkhulu
gugu@africacommunicationsgroup.com.
(27) 78 117 3940
About the Wikimedia Foundation
The Wikimedia Foundation is the nonprofit organization that operates Wikipedia and the other Wikimedia free knowledge projects. Our vision is a world in which every single human can freely share in the sum of all knowledge. We believe that everyone has the potential to contribute something to our shared knowledge, and that everyone should be able to access that knowledge freely. We host Wikipedia and the Wikimedia projects, build software experiences for reading, contributing, and sharing Wikimedia content, support the volunteer communities and partners who make Wikimedia possible, and advocate for policies that enable Wikimedia and free knowledge to thrive.
The Wikimedia Foundation is a charitable, not-for-profit organization that relies on donations. We receive donations from millions of individuals around the world, with an average donation of about $15. We also receive donations through institutional grants and gifts. The Wikimedia Foundation is a United States 501(c)(3) tax-exempt organization with offices in San Francisco, California, USA.
About Wikipedia
Wikipedia is the world's free knowledge resource. It is a collaborative creation that has been added to and edited by millions of people from around the globe since it was created in 2001: everyone can edit it, at any time. Wikipedia is offered in more than 300 languages containing a total of more than 55 million articles. It is the largest, collaborative collection of free knowledge in human history, and today its content is contributed and edited by a community of more than 280,000 volunteer editors each month.
Source : African Media Agency (AMA)