The World Health Organisation (WHO) has extended its humanitarian support in the form of access to emergency life-saving health services, to the displaced and vulnerable populations in northeast Nigeria.
The WHO emergency manager, Dr Beatrice Muraguri, who disclosed this in a  statement made available to the media, noted that the agency's mobile health intervention programme implemented in Borno, Adamawa and Yobe States (BAY) is one of the humanitarian response programmes to reach out to the underserved communities in the region with good quality and emergency life-saving services.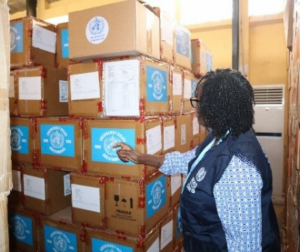 She added that the world health body in collaboration with the BAY state governments has for over six years, provided humanitarian health services to alleviate health challenges as a result of the humanitarian crisis in the region which it described as a grade three because of its impact on the public health and pressure on the health care workers.
Falmata Bukar, a 60-year-old woman residing in Dikwa Local Government Area (LGA), in Borno state who also benefited from the humanitarian health services expressed her happiness, after getting relieved of Cholera she contracted in December 2022.
"I was alone at home when I started stooling and vomiting. After some hours, I felt weak and lost consciousness.  My family and neighbours were unaware of my predicament. I was discovered by the community mobile health team that was going from door-to-door, conducting, and raising awareness about epidemic-prone diseases," she said.
The mobile team reportedly quickly set up an intravenous fluid (IVF) to rehydrate Mrs Bukar and later referred her to a health facility in the community for further treatment.
READ ALSO: WHO reports exponential rise in cholera cases in Africa
"I am grateful for the help received from the mobile team which saved me. I might have died," she added.
Again, Aisha Usman, a 25-year-old resident of Song LGA of Adamawa noted that timely intervention of the mobile health team ensured she had a specialized delivery. She could not access good healthcare facilities but was provided safe delivery by the WHO mobile team when she went into labour during the period the health team sensitised pregnant women in her locality.
"The health workers assisted with the delivery of my son. After his birth, they gave him the necessary vaccines (Oral Poliovirus Vaccines (OPV-0), Bacille Calmette-Gueri (BCG), and Human Papillomavirus Vaccines (HPV-0).
"I'm excited to have my baby and grateful to the team for their assistance and will follow their advice on how to keep my family safe and make sure my children complete their vaccination schedules," she said.
While appreciating the WHO team, the Director of Public Health, Borno State Ministry of Health, Dr Goni Abba, stated that the world health agency's involvement has strengthened the health systems.
He explained that through capacity building for healthcare workers and the deployment of mobile health teams, the under-served populations in hard-to-reach areas are being provided with the needed emergency health services, irrespective of their locations.
"The commitment of the WHO technical team to disease outbreak response, and piloting ways to reach the affected populations with basic life-saving interventions is laudable," Abba said.
Similarly, the Adamawa State Executive Chairman of the Agency, Dr Suleiman Bashir, commended the WHO for its support in the fight against diseases, especially in the remote communities.
"The interventions are numerous – from outbreak prevention, disease control, mental health services, Gender Base Violence, and basic life-saving interventions through the mobile health hard-to-reach team," he added.
In her review of the 2022 WHO aid activities in the BAY, the WHO northeast Emergency Manager, Dr Beatrice Muraguri, noted that the interventions were made possible with funds from donors – including, the United States Agency for International Development (USAID), European Civil Protection and Humanitarian Aid Operations, governments of Germany, the Netherlands, the Nigerian Humanitarian Funds, and the Contingency Fund for Emergencies, among others.
"WHO is committed to championing better and quality health for all in every emergency setting.  The generous funds from our partners make it possible to continue assisting the vulnerable and hard-to-reach populations with essential health services, including Non-Communicable Diseases," Dr Muraguri explained.
As part of the WHO's commitment to improving lives, the WHO in the BAY states has built the capacities of almost 2,300 healthcare workers, including partners, to respond to outbreaks of epidemic-prone diseases and other health hazards.
Muraguri further explained that from January 2022 till date, WHO reached an estimated 1,762,874 people with strategic health care interventions; 778,081 people with access to health care (consultations and treatment for minor illnesses); 672,780 children were vaccinated against childhood illnesses; 238,351 provided with vitamin A supplements; 73,662 pregnant women supported with antenatal care services to reduce maternal morbidity and mortality.
She added that, 400,000 children 6-59 months were screened for Mid-Upper Arm Circumference (MUAC) and 10,000 cases were referred to a nearby treatment centre.
Meanwhile, 86,585 women and girls were sensitized about gender-based violence and its consequences on health; 1,842 GBV survivors were provided with GBV first-line support while 146 survivors were referred to PHCs for further management. While 32,215 patients also accessed treatment for mental health conditions, including epilepsy/seizure disorder, psychotic disorders, and mental retardation.
WHO also donated medical supplies for cholera outbreak intervention and mental health drugs while an estimated 1,738,400 persons were reached with integrated health risk message
Peter Okoye, PBA Journalism Mentee