President Muhammadu Buhari has said that the citizens need to have quality education to gain proper understanding of the world around them and be able to address issue of religious Intolerance which often breeds crisis.
The President, who pointed out that some people hide under the umbrella of religion to advance their selfish economic and political agenda, stressed that continuous education was needed so that the larger populace would not be deceived.
According to a statement by the Special Adviser to the President on Media and Publicity, Femi Adesina, Buhari stated this  at Nouakchott, Mauritania, Tuesday, while meeting with Rashad Hussain, United States Ambassador-at-Large for International Religious Freedom.
Recounting his private meeting at the White House with former President Donald Trump, the Nigerian leader recalls Trump asking him: "why are you killing Christians in Nigeria," and how he proceeded to tell him that the issue in the country was not religious, but rather criminal, and a usage of religion by some elements to further their economic, and sometimes, political interests.
"It's a problem Nigeria has been struggling with for a long time, and it is completely unnecessary," President Buhari said.
"Some people use religion as sentiment, but with adequate education, people are seeing through it now. Majority of the people just want to practice their religion without problem, but some people cash in on religious misunderstanding for their own ends.
"When people are educated, they are able to discern when others want to use religion for certain ends. They do it mostly for material reasons.
"Also, when some people are incompetent, they bring in all sorts of excuses, including religion."
Ambassador Hussain said the United States of America is interested in partnering with Nigeria in the areas of formal and non-formal education, towards religious harmony.
"There's so much we can do together to promote peace, promote communal harmony. We love what you are doing, and we would be glad to assist as appropriate," he said.
Buhari Receives Peace Award  from Abu Dhabi Peace Forum
President Buhari attended the African Conference for Peace held in Nouakchott, Mauritania where he was invested with an Award for Strengthening Peace in Africa by the Abu Dhabi Peace Forum.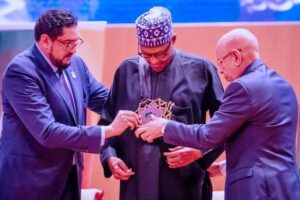 At a meeting with President of the Abu Dhabi Peace Forum, Shaykh Abdullah Bin Bayyah, at the sidelines of the Conference, President Buhari was described as "a symbol and icon of leadership and integrity," who would remain an inspiration even after leaving office as President.
Shaykh Bin Bayyah applauded the efforts of the Nigerian President to eradicate religious extremism, stressing that it is something the world must collaborate to do.
"You are doing a great job in that regard, and it is something we need to do wherever such rears its head around the world," Shaykh Bin Bayyah said.
Inviting the Nigerian leader to visit Abu Dhabi within the short time left for him in office, the respected cleric said: "You have had varied experiences, as a military leader, a democratically elected leader for two terms, and your input will be appreciated in any society. We will be glad to receive you."
President Buhari recounted efforts made to extirpate the Boko Haram ideology in Nigeria, wondering why the group, along with Islamic State of West African Province (ISWAP) wants to split the country.
"Boko Haram is false. You say Western education is ungodly. It's fraudulent. Whoever is financing them just wants to split the country. All the grounds they seized before we came have been recovered, and the rebuilding process is going on well," the President said.