Chairman of United Nigeria Airlines (UNA), Prof. Obiora Okonkwo, has urged the Nigerian government to leave a legacy by providing a window of "Special Funding" for local operators in the aviation sector

Okonkwo made the call in Abuja while speaking at a retreat organised by the management of United Nigeria Airlines recently to mark its two-year operation in the aviation industry.

The retreat themed: "Positioning United Nigeria for Value Creation and Retention," was organised for the management staff of the company.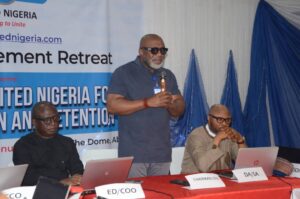 Okonkwo said the call for the provision of a window of special funding for operators in aviation became necessary given its essential duty nature and its growing contribution to the Nigerian Gross Domestic Product (GDP).
READ ALSO: We'll Prosecute Passengers Who Destroy Our Property, Assault Staff – Airlines Threaten

"We are just asking for a special funding window that should be of a single digit and that is easily accessible, not necessarily on paper, but it is not accessible.

"We still believe that this government has done a lot for the aviation industry, though, more needs to be done and we think that the bigger legacy that this government will leave for the aviation industry is to ensure that the operators survive.

"No operator should go under, rather let there be new operators in the business of aviation."

He said the indigenous airline operators have been very patriotic and have contributed immensely to the growth of the nation's GDP.

"We are very patriotic Nigerians, who have contributed so much to the GDP of the nation, giving employment. It is a sector that I advise this government and in coming government to take very seriously.

"If properly harnessed, it will be a great source of foreign exchange for the country, especially, if the local operators should be empowered, this industry, we believe remains a critical and essential industry, that should be treated as such.

"This industry can not survive further at the regular commercial rates. We know that there are privileges given to sectors like agriculture and others. Aviation should be considered also."

According to Okonkwo, airline transportation required special attention.

"If this is done, I have no doubt that the operators will be stronger and further render better services to the people."

He further emphasised, that there was a need for government to consider special funding for the sector operators, saying that it was a win-win situation for both government and the operators and ultimately for the good of Nigerians.

"I also thought that the government should consider a window of "Special Funds " at a single unit loan for the operators because it is a win-win situation for the companies and the government.

"Because this is one sector that pays the government as they receive their own, because every ticket that is issued, all agencies of government have their own.

"It creates high-level, employment, high-skilled workers that pay good income tax to the government, and so this is one of the sectors that should be taken seriously and the operators are happy to work out all the new arrangement with the government.

If this capital is made "available, the individual airlines will access it as per their needs and then capitalise individually, because there is capital you should have as a domestic operator and the required capital if you are going international or regional routes.

"So you can imagine, a situation where you go to the bank today and access naira loan at the rate of 25 to 30 per cent and then you go back to the foreign exchange window and buy it at the rate of N750, you just basically operate for nothing," he said.

Okonkwo said that the United Airlines management was committed to further improving its performance going further, despite the challenges experienced in the past year.

The Chief Operating Officer and Executive Director of the airline, Mr Osita Okonkwo, said the company's strategy, going forward, was to continue on its growth part.

He said that despite challenges, the company survived, saying that it was grateful to God, the travelling public, and the regulators that have kept fate with the company.

He said the company in 2023 and beyond would continue to excel and improve its service to the travelling public and customers, focused on its equipment to ensure its fleet was up to date.

According to him, the company has a massive expansion programme in the fleet area in numbers and aircraft.

"We have started already with A 320, which is already flying. More will join the fleet.

"We are expanding our destinations; we have the objective of having a full print in every airport in Nigeria, we are about to start Jos and Benin and other towns in the North East and North West will follow.

"We are going outside Nigeria. We are moving regionally, we are going through the regulatory process now, and we have gotten our airline carriers permit.

"We have gotten designations to a number of countries, which will be announced soon," Okonkwo said.
Support Investigative Journalism and Mentorship