The Carrington Youth Fellowship (CYFI) of the U.S. Consulate in Nigeria has inducted 65 new fellows into the 2024 cohort of the intensive one-year program.
While inducting the 2024 cohort, at a ceremony in Lagos recently, the U.S. Consul General, Will Stevens said: "As the torch of service and leadership is passed on to you, remember that the journey ahead is challenging. But as we've seen from our graduating fellows, it is also filled with extraordinary possibilities."
The ceremony was also for the graduation of 50 fellows from the 2023 cohort of the CYFI. The event showcased the exceptional achievements and growth of the young leaders who have undergone an immersive and transformative experience that has equipped them with the skills, knowledge, and network to drive positive change in their communities.
Consul General Stevens encouraged the graduating CYFI fellows to continue to implement programs that foster economic growth, enhance democratic governance, and champion civil liberties.
He said: "Today, we celebrate not just the end of a program, but the beginning of a new chapter for these young leaders. The Carrington Youth Fellowship has provided them with the skills to become change-makers and advocates for progress.
"Their passion and dedication are a testament to the potential of youth to shape our world for the better."
Durig the graduation ceremony hosted by Consul General Stevens, exceptional fellows were recognized for their dedication, creativity, and resilience in tackling pressing challenges focused on civil liberties, economic empowerment, education, and health.
Their projects spanned a wide range of sectors, demonstrating the breadth of their commitment to building a sustainable future for their communities.
The event was also attended by CYFI program partners as well as the Permanent Secretary of the Lagos State Ministry of Youth and Social Development, Toyin Oke-Osanyintolu.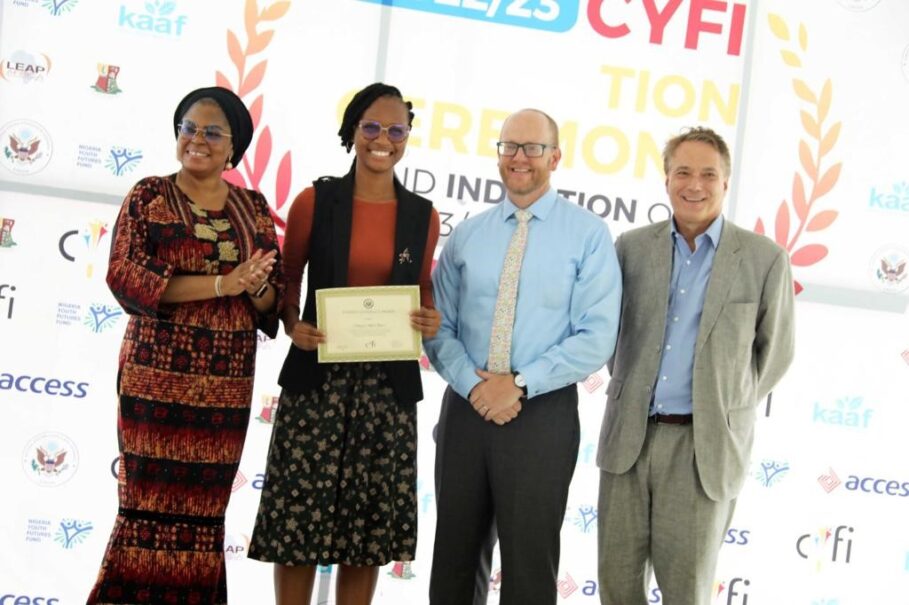 The Carrington Youth Fellowship Alumni Network also announced the expansion of the program to eight states to include: Lagos, Ogun, Oyo, Ekiti, Ondo, Osun, Rivers, and Enugu with support from partners such as Kensington Adebukunola Adebutu Foundation, Access Bank and LEAP Africa.
The Carrington Youth Fellowship, a dynamic youth-based initiative launched by the U.S. Consulate General in Lagos in 2011, aims to nurture a network of accomplished young Nigerians who are committed to making positive changes in their communities. CYFI is named after former U.S. Ambassador to Nigeria, Walter Carrington, who was an advocate for civil rights, democracy, and stronger ties between the United States and Nigeria.
Since its inception, over 278 outstanding young Nigerians who are positively impacting Nigerian society have graduated from CYFI. They have gone on to become entrepreneurs, innovators, activists, and agents of social change. CYFI is proud to have contributed to their success and looks forward to seeing the impact of the next generation of leaders.
Credibility and transparency is our DNA at Prime Business Africa'. We strongly believe in the role of media as a watchdog of the society that powerfully promotes accountability and transparency in government.
By contributing to Prime Business Africa, you are helping to sustain good journalism and making sure that it remains free to all.
Support Investigative Journalism and Mentorship
Courageous Journalism of Truth,Transparency and Development is in the DNA of Prime Business Africa; By donating as little as N1000 or $1 today, you are helping to keep credible journalism and life-changing information free for all.