Edo State Government has commiserated with the family of DSP Michael Adams, who lost his life during a rescue operation of some of the victims of the Edo train attack kidnap incident at Igueben Local Government Area of the state.
Deputy Governor of Edo State, Rt. Hon. Comrade Philip Shaibu, who led other top government functionaries and security officers to the home of late DSP Adams on Airport Road, Benin City, condoled with the family and expressed sadness over the unfortunate incident.
Shaibu noted that the late DSP Adams was a gallant officer, whose exploits are worthy of commendations and emulation.
READ ALSO: Kidnappers Of Edo Train Passengers Demand N20m Per Victim
"All the heads of security agencies are here. We are grieving. He left a family behind and we have to come and commiserate with them and also join them in this dark moment. The loss is not for the family alone but for all of us because when we lose gallant men like this, then it's a major problem for us because we need a lot of these gallant officers alive to tackle insecurity," he said.
"It's very unfortunate that we lost him but what is key is that he was a gallant officer that went on a successful mission. Fortunately, the mission was successful and they were able to rescue the victims alive.
"Spending over five days in the bush and rescuing victims alive is not something that is common. Such an officer obviously deserves a posthumous medal."
Shaibu further noted that more progress is being recorded in the ongoing rescue mission of the kidnapped victims.
"The officer and other men have been in the bush. They are rescuing victims and more of these victims are being rescued.  Apart from the magistrate, two more persons have been rescued. Their effort is really yielding results and I must commend them for what they have been doing.
The Edo State Commissioner of Police, CP Mohammed Adamu Dankwara, added that Adams did not die in a shoot-out as had been rumoured.
He said, "They went for an operation and along the line, he felt that he was not feeling too well after the rescue of the magistrate and other victims. He was not shot."
Responding on behalf of the family, the elder brother of the deceased, Ebi Naingba expressed appreciation to the state government and other security chiefs and pleaded on behalf of the family that the state step in for the upkeep and education of the children left behind by DSP Adam.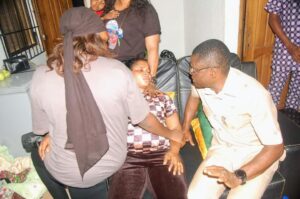 Credibility and transparency is our DNA at Prime Business Africa'. We strongly believe in the role of media as a watchdog of the society that powerfully promotes accountability and transparency in government.
By contributing to Prime Business Africa, you are helping to sustain good journalism and making sure that it remains free to all.
Support Investigative Journalism and Mentorship
Courageous Journalism of Truth,Transparency and Development is in the DNA of Prime Business Africa; By donating as little as N1000 or $1 today, you are helping to keep credible journalism and life-changing information free for all.