Lagos State Development and Property Corporation (LSDPC) and Afriland Properties signed a Public Private Partnership (PPP) to upgrade the Falomo Shopping Mall, situated in Ikoyi.
This was announced in a video sent to Prime Business Africa, which captured the sod turning ceremony for the PPP at the Falomo Towers. The occasion was graced by the state Governor, Babajide Sanwo-Olu, and Chairman of Heirs Holdings, Tony Elumelu.
The joint redevelopment partnership comes a year after Elumelu disclosed intention to revamp the Central Business District of Lagos. Elumelu's first stop in his quest is the reconstruction of Falomo Mall.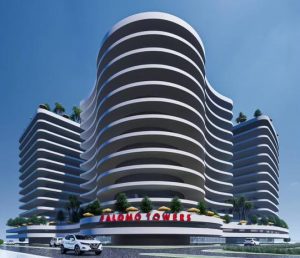 He intends to carry out his plans through Afriland Properties, a subsidiary of Heirs Holdings, headed by Chief Executive Officer, Uzoamaka Oshogwe.
Commenting on the partnership with the Lagos State government, Elumelu said it shows the trust in the private sector, and also reflects the hospitable business environment for investors operating within the state.
Elumelu said, "I commend Governor Babajide Sanwo-Olu and the political leaders of the State for believing in the private sector. What we are witnessing today attests to their beliefs in the private sector as a driver of development in the State
"For the private sector to do well, the political leadership must create the right environment. Lagos has set the pace in this direction. This partnership is a celebration of dialogue and this makes Lagos remain the most hospitable environment for investors."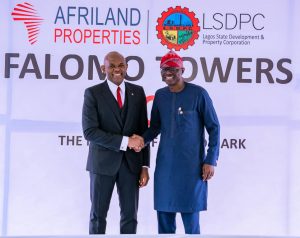 Also speaking during the ceremony, Governor Sanwo-Olu said, "This is a phenomenal project that will bring back the lost ambience of Ikoyi. When this partnership was initiated 10 years ago, I was the Managing Director of LSDPC.
"It is interesting to note that we've all gone through arbitration but we didn't throw a wrong punch. We agreed this project must not be thrown away. Today we are making a transaction that is bigger and better than what was initially proposed 10 years ago.
"This testifies to the uniqueness of public and private sectors in ensuring things can be made a lot better when we sit and agree. This is a clear example of what Public Private Partnership (PPP) model is out to achieve when partnerships and collaborations are pursued and implemented with seriousness.
"When we put our minds of possibilities to ideas, great things happen. This aptly describes the story of today's flag-off of construction of Falomo Towers." The governor said at the flag-off ceremony.