At the 2023 Oscars Awards this Sunday, A-listers were largely celebrated for their daring fashion choices. For the event, Tems, who was nominated in the "Best Original Song" category, showed up in a stunning white gown, which was designed by Lever Couture.
This dress notably also featured a headpiece that added to the mystique of the look, and it was certainly a whole moment on the red carpet.
The bridal-style design was widely labeled as ethereal and angelic; it ranked highly on many social media users' best-dressed lists, But others, however, took some issue with its scale.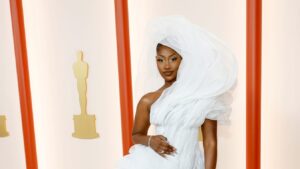 It all began after images began circulating that showed how, due to Tems' decision to continue wearing the outfit while sitting in the audience, the people behind her were stuck in a less-than-ideal situation.
"I'm seated right here. Good news is, I'm at the Oscars. Bad news is I can't see a thing. — devon sawa (@DevonESawa) said.
READ ALSO:Tems Loses Oscar Award To 'RRR'
"Tems got that one lady fighting for her life," wrote another Twitter user along with a video clip of a woman, seemingly sitting in that very spot, craning her neck to look around and catch a glimpse of the stage.
Kelechi Okafor, the Black British author and presenter, argued the criticism levied at Tems felt "loaded" and coming from "a certain demographic." Others responded that it should spur her on to find an even bigger look for her next awards show.
Taking to social media several hours after the event has ended, the unfaced Tems shared more pictures of herself in the gorgeous and on the Twitter app, she captioned the post with an unbothered caption. she wrote: 'Ooops'