By Ojo Maduekwe, Donatus Anichukwueze, Olukayode Shopekan, and Blessing Okesola
On July 7, 1998, the presidential candidate of the Social Democratic Party (SDP), Chief MKO Abiola died in detention under suspicious circumstance. The last people who visited Abiola were then UN Secretary-General, Kofi Annan, US Undersecretary of State for Political Affairs, Thomas R. Pickering, and Assistant Secretary for African Affairs, Susan E. Rice. 
It remains unclear what discussion the trio of Annan, Pickering and Rice had with him and what was his reaction, however, rumour has it that it was about his ambition to be Nigeria's president. Abiola was in detention for declaring himself president and winner of the June 12, 1993 presidential election.
Described by local and international election observers as free and fair, the civil unrest that followed the news of his death was an expected reaction from Nigerians that had come to see the possibility of an Abiola presidency as the coming of an era of a new Nigeria.
Millions of Nigerians had on June 12, 1993, voted to end decades of military dictatorship. A total of 14,293,396 million votes, Abiola won in 19 of 30 states with 8,341,309 (58.36%) nationwide, while the National Republic Convention (NRC) candidate and only contender, Alhaji Bashir Tofa, came second place with 5,952,087 (41.64%) votes across 11 states.
For Nigerians who were distraught by his death, June 12 represented an era where their votes counted. Irrespective of tribe, language, religion and region, Nigerians had endorsed Abiola as the best man for the job. The reason why when military dictator, General Ibrahim Babangida annulled the June 12 election, these stakeholders of Nigeria, took to the streets.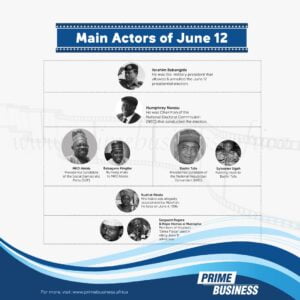 However, not everyone was as much invested in Abiola's victory.
Opportunists
Let's start with his running mate, Babagana Kingibe. When Babangida annulled the election on June 24, he handed over power to an interim government headed by Chief Ernest Shonekan on August 26. General Sani Abacha who was Shonekan's secretary of defence, would stage a palace coup on November 17. General Abacha appointed Abiola's deputy, Kingibe his Minister of Foreign Affairs from 1993 to 1995, then Minister of Internal Affairs from 1995 to 1997, and later Minister of Power and Steel from 1997 to 1998, the year Abacha died.
Before even the election was held, Chief Arthur Nzeribe's Association for Better Nigeria (ABN) obtained a high court injunction on June 10, 1993, against holding the election. Formed after Babangida abolished all political parties and created the two national parties, NRC and SDP in 1991, the primary objective of the ABN was to keep Babangida and the military in power. The ABN put up billboards in Abuja, with the message "Four More Years". 
On June 15, a day after the National Electoral Commission (NEC) had started counting the results and released that of 14 states and the Federal Capital Territory (FCT), Abuja, the ABN got another court injunction asking NEC to stop the counting. The next day, NEC accepted the court order and announced that they were suspending the announcement of results.
Babangida annuls the election and hands the government over to Shonekan who makes Abacha his secretary of defence. Abacha grows an ambition and plans to take advantage of the mood already in play (thanks but no thanks to Babangida). He decides to swap his military khaki for agbada. On the verge of becoming a changed democrat, the military dictator allows five political parties to be registered. Before Nigerians could shout hallelujah, these five political parties go ahead to endorse Abacha as their presidential candidate.
The parties are the Congress for National Consensus (CNC), Democratic Party of Nigeria (DPN), National Centre Party of Nigeria (NCPN), United Nigeria Congress Party (UNCP), and Grassroots Democratic Movement (GDM). Former minister of justice, the late Chief Bola Ige, rightly referred to them as "5 fingers of a leprous hand".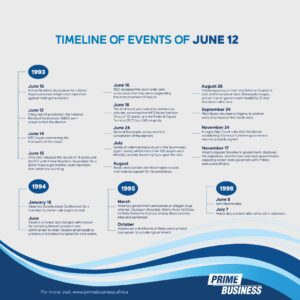 The irony of June 12
One irony is that Abacha who would end up putting Abiola in jail was Shonekan's secretary of defence. The thing is, we may never know how history would have played out if Abacha was not close to the seat of power; close enough to stage a palace coup.
However, an amusing irony is that former military dictators Olusegun Obasanjo and Muhammadu Buhari, along with ten other former generals – as part of the Association for Democracy and Good Governance – issued a joint statement demanding that their fellow military dictator be removed from power. Did you catch the irony in the association's name?
More amusing is that it took one of these same military dictators to accord the late Abiola with the respect that his supporters and advocates of democracy have been clamouring for years. Former dictator turned democrat (millions of Nigerians will argue this), President Muhammadu Buhari, on June 6, 2018, announced June 12 as the new Democracy Day. Prior to that change, and since 1999, Nigeria has been observing May 29 as Democracy Day.
2021 Democracy Day
Alhaji Tanko Yakasai, founding member of Arewa Consultative Forum (ACF), may have described June 12 as having nothing to do with democracy, except for being the first recorded inconclusive election in Nigeria. "June 12 has nothing to do with democracy. It is the first nationwide inconclusive election and not a democracy day really," but as he said, that is nothing more than his personal opinion.
Millions of Nigerians, old and young, will not agree with Yakasai. For them, June 12 should have been declared Democracy Day many years ago. To them, there's no better reward for the man who paid the ultimate price in pursuit of a mandate duly given to him by the people. Choosing to still protest on June 12, 2021, despite the directives by some state governments not to do so, shows how much they think Abiola deserves this honour.
Despite the no-protest directives by state governments, Nigerians still came out to protest. Prime Business Africa reported that there were peaceful protests across Lagos and Abuja. In the Ojota part of Lagos, protesters at the Gani Fawehinmi Park were fired with tear gas by men of the Lagos State Police Command on Saturday morning. The police arrested some. After being dispersed with tear gas by the police, protesters later reconvened.
In Abuja, the Nigerian Police Force arrested some protesters. Taking to his Twitter handle, rights activist, Deji Adeyanju, who is among the Abuja protesters, decried the arrest of protesters by the police. He identified one of the arrested protesters as Blessing Dawon, whom he said was first beaten and had her phone damaged in the process.
"Some of our comrades have been arrested by the police. They beat one of the protesters – Blessing Dawon badly and damaged her phone. Bandits, Boko Haram and our government all attack us #June12thProtest", Adeyanju tweeted.
Protesters are still out protesting in many parts of the country. In Lagos, places like Isolo, Ago Palace way, Mushin and its environs have been peaceful and void of any form of protest. In his Democracy Day speech, President Muhammadu Buhari described June 12 as "a celebration of freedom and a victory for one people, one country and one Nigeria."
Aside from the skirmishes with overzealous security agencies, the observance of June 12 went relatively well. Going forward, it appears that Nigerians have adopted June 12 as not only a day to celebrate democracy, but also a day for them to protest against bad governance. For supporters of the late Abiola, this is the ultimate spoils of the June 12 struggle.