Bank Says It's 'System Failure'
UK-based customer of Sterling Bank, Mr Ben Emeka Uzokwe, has told Prime Business Africa (PBA) the story of how  his Nigerian corporate account was allegedly debited by N20 million on Friday June 2, 2023 without the company initiating any such transaction.
He says  the spurious debit on his Sterling Bank Corporate Account, "Emekauts Enterprise', Account number 0073494873, domiciled at the Balogun Trade Fair, Lagos branch,  has not been reversed 24 hours after the incident happened on Friday June 2, 2023.
There are indications that several other customer accounts may have also been debited of  hundreds of millions of Naira in similar circumstances this weekend in what is believed to be a major glitch in the bank's Internet Banking platform and the Sterling Bank Pro App.
"Another officer confided in me (to say that) it's not only (from) my company Sterling withdrew  money," the customer said.
"Are you aware that Sterling Bank internet banking is down since Friday morning to date?," Uzokwe asked in a chat with PBA Correspondent on Saturday morning. "Not only that Sterling Bank debited many corporate accounts illegally same yesterday, Sterling Bank withdrew N20, 000,000 from our corporate account yesterday illegally," Mr Uzokwe said in a chat with PBA Correspondent.
"I was on phone and Whatsapp with chat throughout yesterday (Friday). She (Account officer) keeps promising Sterling Bank will credit our account from N20,000,000 they took out of our company account. To our greatest surprise, Sterling Bank didn't credit (the) account and also Sterling Bank Pro is still down more than 24 hours."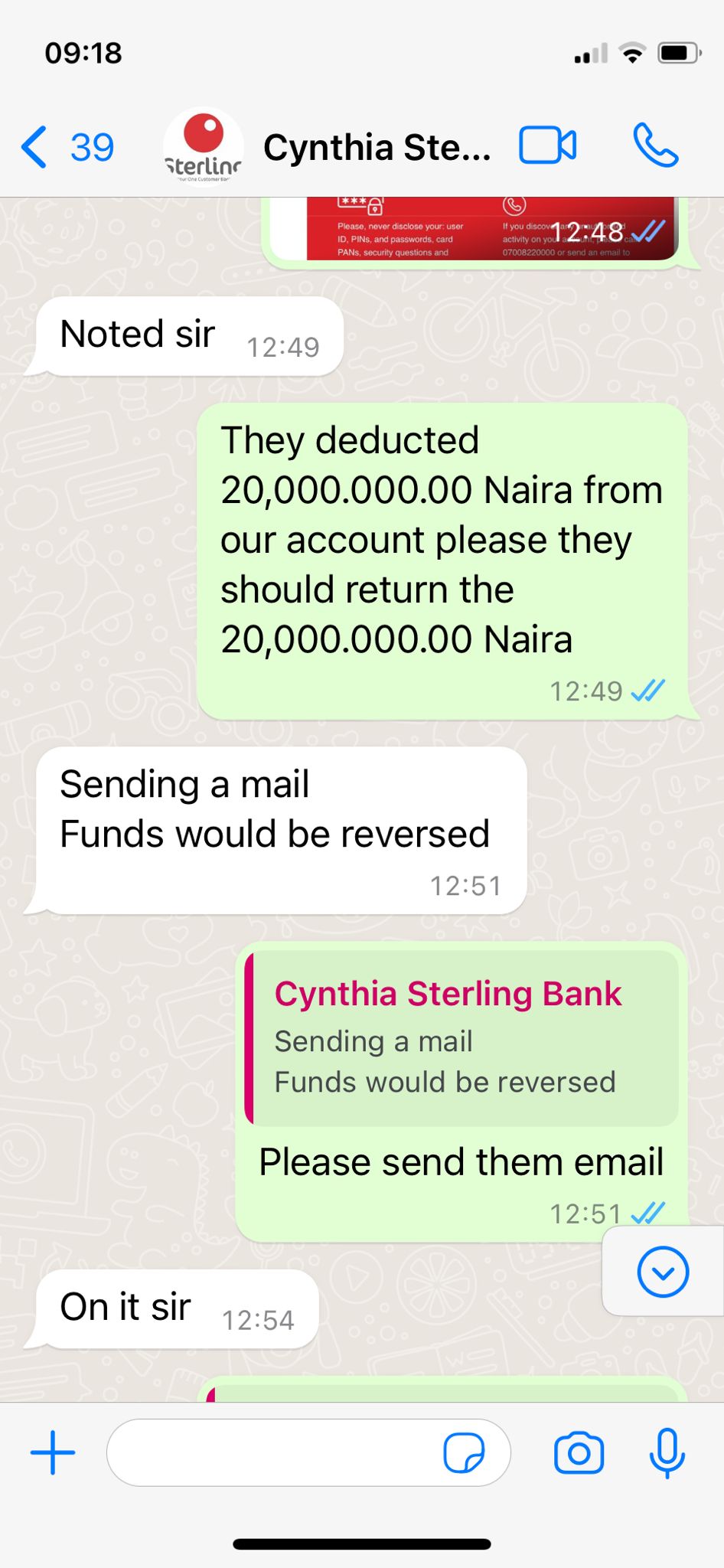 Mr Uzokwe told PBA that, subsequent to his discussion with the account officer, the Branch Manger actually called him early Saturday morning, promising  that the N20 million will be reversed immediately"; but five hours later, the money had not been returned to the account.
Asked what the Bank Manager said was the issue with the account, Uzokwe quoted the officer as saying that illegal debit was due to system failure."
Uzokwe disclosed that  "Our lawyer lawyer might sue Sterling Bank; more than 24 hours our N20 million fund is not in our account."