Barcelona and Spain midfielder Alexia Putellas has called for more 'courage and leadership from institutions' in the wake of the resignation of Spanish Football Federation president Luis Rubiales.
The Football world has been rocked by the kissing saga following Spain's triumph at the FIFA Women's World Cup in Australia and New Zealand.
Rubiales was suspended by FIFA and he initially refused to step down from his position but would later yield to public pressure when he announced the hard stance late Sunday night.
"We feel passion for our job, that of being soccer players," said the two-time Ballon d'Or winner, Putellas.
"We are here to stay, to help those who will come because there is still a long way to go.
"These days we have seen it with the serious situation that we are experiencing with the RFEF and the changes that we are requesting so that no woman, both inside and outside of football, never again has to experience situations such as lack of respect or abuse.
"We need consensus, courage and leadership from the institutions please and that is why we will not stop here, we will join those who have fought before us.
"We will join together for the effort we make every day and we will join all the girls and boys who today dream of being like us.
"We will not fail you, long live women's sport and long live Barca."
In the statement released by Rubiales, he reiterated the need for Spain and Morocco to win their joint bid to host the 2030 World Cup as one of the reasons for his eventual resignation.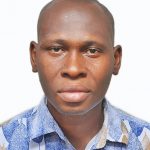 Izuchukwu Okosi is a Nigerian sports and entertainment journalist with two decades of experience in the media industry having begun his media journey in 2002 as an intern at Mundial Sports International (MSI) and Africa Independent Television (AIT), owners of Daar Communications Plc.
In October 2004, Okosi joined Complete Communications Limited, publishers of Complete Sports newspaper and Complete Football magazine as a reporter and later script writer for the Complete Sports studio.
He worked there for 13 years until October 2017.
Okosi also worked various times as Correspondent, Content creator and Editor at Sports Market International Magazine, Opera News, All Nigeria Soccer Media and Iconic Media Watch.
He also undertook freelance writing gigs for some local and international organizations.
Okosi is a member of the Actors Guild of Nigeria (AGN), Association of Movie Producers (AMP), Association of Voiceover Artistes of Nigeria (AVOA), Sports Writers Association of Nigeria (SWAN) and Nigeria Union of Journalists (NUJ).
He has been part of cast in some Nollywood movies and radio dramas including Blood Money 2, Scores To Settle, Dead End 2, Another Campus Tale and Battle Line.
Aside mainstream media and the entertainment industry, he has interests in scouting/unearthing of talents in the sports and creative sectors, exports business and property development.