Liverpool and Egypt forward Mohamed Salah has magnanimously donated three million Egyptian pounds ($156,664) to help rebuild a church in Giza, where a fire on Sunday killed 41 people including children and left several others injured.
The Egyptian footballer and former club mate, Sadio Mane have been involved in several humanitarian works in their home nations.
Violence in Egypt had been on the rise for sectarianism as more than 45 churches and Coptic institutions were once torched or stormed across the country.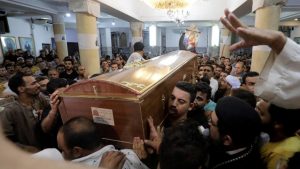 The wave of attacks against Copts and their houses of worship, businesses, schools and homes were said to be as a result of Egypt's security forces dispersing two large pro-Morsi sit-ins in Cairo.
The inferno in Sunday, August 14, ripped through a packed Coptic Orthodox church during morning services near Egypt's capital, killing 41 worshippers including at least 10 children.
Several people were trapped inside facing thick black smoke and would later jump from upper floors of the Martyr Abu Sefein church to try to escape the intense flames, witnesses said.
Forty-five people were reportedly injured including four policemen involved in the rescue effort.
Weeping families waited outside for word on relatives still inside the church and at nearby hospitals where the victims were taken.