Former Managing Director and Chief Executive Officer of defunct Diamond Bank Plc., Dr. Alex Otti, has described the Labour Party presidential candidate, Mr. Peter Obi as a major game changer who has positively altered Nigeria's political landscape.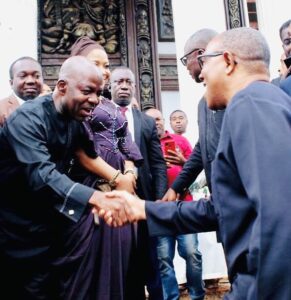 Otti, who is currently the governorship candidate of Labour Party in Abia State, asserted that Obi has in his capacity and campaign messages altered the political calculation forcing political opponents to adopt Issued-based campaigns instead of their usual exchange of verbal attacks.
The ex-banker in a Twitter post on Thursday, observed that the entry of Obi into the 2023 presidential race has awoken the political consciousness millions of Nigerians who want a better leadership come 2023.
He stated that Obi with his qualities, will chart a new course of leadership in Nigeria.
His tweep reads "With the campaign for the 2023 Presidential election officially kickstarted, I wish our party's Presidential candidate, @PeterObi, a successful run. His capacity is never in doubt, and Nigerians are ready to receive him and his refreshing message of hope.
"In a short while he has altered positively the political landscape of Nigeria. Campaigns have become issue based, & through his message that resonates with millions, a generation's political consciousness has been awoken. Obi will chart a new course for Nig and we will follow him."
Campaigns for the 2023 presidential election kicked off on Wednesday, September 28, 2022.
READ ALSO: Nigerians Charge Candidates To Focus On Issues As Campaigns Kick Off
Meanwhile, Obi and his running mate Yusuf Baba-Ahmed Datti were in Jos, Plateau State yesterday to mark the formal commencement of the campaigns where they were received by a large crowd at Langtang Local Government Stadium.
In Jos, Obi continued with his message of scaling up production in various sectors for self sufficiency and increase foreign exchange earnings to boost the Nigerian economy.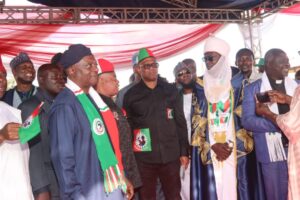 "My fellow Nigerians and OBIdients, I join you today as we mark the formal start of the 2023 campaign season. We must all reflect on the journey we are embarking upon. We seek a new nation, but to arrive there, we need prayers and courage," remarked.
Speaking on the thrust of his campaign for the 2023 presidential election, Obi said, "we aim to canvass for electoral legitimacy, as means to governance legitimacy. So we must do three things urgently.
"We must pray for peaceful and successful elections; for the turnaround of our country and for the security of the members of the OBIdient Family and every participant including the Independent National Electoral Commission, INEC throughout the duration of the exercise.
"We must summon up courage. The courage to stand up for what is right; to make the much needed sacrifices and ultimately, to rescue our country from those who have perfected State Capture."
He also urged the Obi-dient family to be committed to issue-based campaign saying "We must recommit ourselves to an issues-based campaign. Let us pray for a peaceful and issue-based campaign that will eventually lead to God's desire for a president that will be best suitable for our great country moving forward.
"The Obi-Datti administration represents, the HOPE, AND PROMISE for a united, secure and productive Nigeria and a transformative leadership that is imbued with competence, capacity, credibility and commitment. These 4Cs,are leadership competencies required to turn Nigeria around."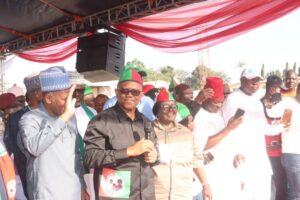 He also spoke about massive investment in agriculture to utilize vast lands in different parts of the country especially in the north to boost food security and have raw materials for local industries.
"As a President elected by all Nigerians, Plateau state will not only host several potato chips processing companies, which will create jobs for the teeming unemployed youths, but other parts of the North will be dotted with several agro-processing industries.
The former Anambra Governor, also emphasized on tackling insecurity in various parts of the country.
"Our administration will ensure that Nigerians are fully protected in their homesteads: and that their lives, properties and means of livelihood will always be secured. That, after all, is the Primary Responsibility of government.
He equally said Nigerians should hold him and Datti his running mate responsible for any failure that they are not ready to give excuses.
"We want a new Nigeria to be provided by Labour Party. Hold us responsible for your employment, your future, and everything. We are not going to be government of excuses but government of action. We will do all things possible to ensure that hat Nigerians are happy living in Nigeria."
He reiterated his pledge of revitalizing the nation's power sector to drive other sectors for drastic development.
"I promise Nigeria's equal opportunities in all sectors, improved power generation, practical war against insecurity and other forms of criminality, access to education and an end to endless unfulfilled promises."