Rihanna delivered an epic halftime show at the big game on February 12, 2023, despite delivering such an incredible performance, she  won't be getting paid.
"We do not pay the artists," NFL spokesperson Joanna Hunter told Forbes back in 2016. "We cover expenses and production costs."
The halftime show featured the Grammy winner's biggest hits such as "Diamonds," "Umbrella" and "Pour It Up," which was performed by the 34-year-old in an eye-catching red jumpsuit.
On top of captivating audiences with her vocals, Rihanna made headlines by revealing she is pregnant with her and and A$AP Rocky's second child during the performance. A representative for the singer also confirmed the news.
Although she was not paid for the halftime show, Rihanna found a way to cash in by promoting her beauty and lingerie brands throughout the performance.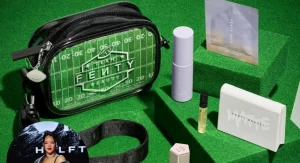 Not only did the she wear a shade of her Fenty Beauty lipstick on stage, which was later promoted by Sephora on its official Instagram account, but she also pulled out one of its Invisimatte Blotting Powders in the middle of the performance and used it to touch up her makeup.
READ ALSO:Rihanna Is Pregnant with Second Baby, Reveals Bump During Super Bowl
In addition, all of her dancers wore items from Rihanna's Savage X Fenty line, and afterwards, the company even sent out a mass text to all of its subscribers encouraging them to purchase all the 'looks inspired by the performance'.
Companies pay millions of dollars for a chance to promote their products during the highly-anticipated football game , it can cost between $6 million and $7 million for just a 30-second ad slot – but Rihanna didn't need to pay for a commercial.
She certainly took advantage of the millions who tuned in to watch her sing, and the brilliant marketing ploy isn't out of the ordinary for billionaire Rihanna.
Support Investigative Journalism and Mentorship
Courageous Journalism of Truth,Transparency and Development is in the DNA of Prime Business Africa; By donating as little as N1000 or $1 today, you are helping to keep credible journalism and life-changing information free for all.