The order by President Muhammadu Buhari on Wednesday that cabinet members seeking elective positions should resign has generated reactions, but legal experts have said the decision was to forestall any consequences on the emergence of any candidate during the polls.
The experts who appeared as guests on the Channels Television SunriseDaily programme on Thursday morning gave their opinion on the reasons behind the president's decision to relieve the affected cabinet members of their duty with regard to the legal controversy so far generated by Section 84 (12) of the Electoral Act 2022.
Former 2nd vice president, Nigeria Bar Association (NBA), Monday Ubani asserted that Buhari decided to lay off the affected ministers because he, just like the political parties participating in the election, are afraid of what might be the outcome of court interpretation of the said section 84 (12) which stipulates that "No political appointee at any level shall be a voting delegate or be voted for at the convention or congresses of any political party for the purpose of the nomination of candidates for any election."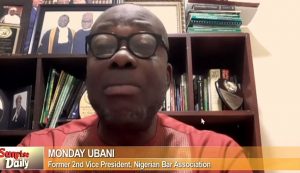 A Federal High Court sitting in Umuahia, Abia State had in March ruled that the clause in the Electoral Act is unconstitutional, arguing that it violates section 42 (1a) of the 1999 constitution  by denying a class of Nigerians their right to participate in an election.
The Court of Appeal, Abuja division on Wednesday after ruling that the plaintiff, Nduka Edede who filed the suit at Umuahia High Court lacked locus standi, held that it is a constitutional matter which can only be determined by the Supreme Court.
Ubani who aligned with the outcome of the appeal, said the apex court, might determine the matter based on the merit not on whether the litigant had a locus standi.
A Senior Advocate of Nigeria, kunle Adegoke, while reacting to the appeal court ruling and the President Buhari's order for the cabinet members seeking elective positions to resign, said the controversy generated by the section 84 (12) is expected being a new law because those whose interests are affected by the clause would definitely react.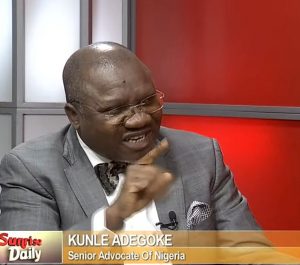 Adegoke said the president's decision even though he has right to appoint and remove the cabinet members, was not obviously to affirm the now controversial clause, but to avert any undesired result if the clause is determined to stand after the apex court ruling on it.
He observed that the said clause was "premised on good intention but the procedure by which it was enacted is wrong." He suggested that it could have come by way of constitutional amendment because the constitution is the supreme law of the country that gives validity to all other laws.