The Economic and Financial Crimes Commission, EFCC, has stormed the polling unit of Bola Ahmed Tinubu, in the morning of the presidential and National Assembly Elections.
The team who arrived Tinubu's unit at PU 085, Ward 3, Sunday Adigun, Alausa, Ikeja, Lagos State, were seen parading the polling centre although they never disclosed what prompted the visit to reporters.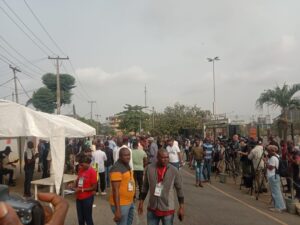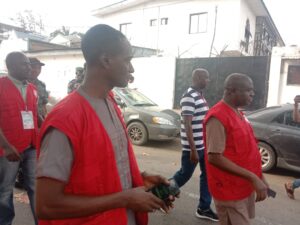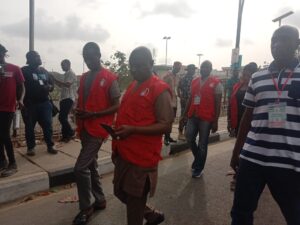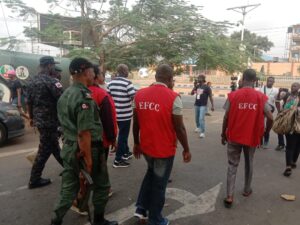 Earlier today, the presidential election was delayed at the All Progressives Congress presidential candidate's Polling Unit 085, Ward 3, Sunday Adigun, Alausa, Ikeja, Lagos State.
Observers, police personnel and journalists were spotted at the scene while the INEC officials were yet to arrive as at 8:51 am.
One Mojid Balogun, expressed concern over the late arrival of the INEC officials. He said, "We are waiting for the electoral officials, we have done our part and we don't know why they are delaying. I am waiting to receive our candidate before I go to the polling unit."
READ ALSO:2023 Election Day Playlist
EFCC is a Nigerian Law enforcement agency that investigates financial crimes such as advance fee fraud (419 fraud) and money laundering. The EFCC was established in 2003, partially in response to pressure from the Financial Action Task Force on Money Laundering (FATF), which named Nigeria as one of 23 countries non-cooperative in the international community's efforts to fight money laundering. The agency has its head office in Abuja,  Nigeria.
Operatives of the Benin Zonal Command of the Economic and Financial Crimes Commission, EFCC, have arrested one Irabor Kennedy Osasogie for alleged fraud.
The EFCC listed the requirements needed to successfully participate in the auction of properties across the country which are subject of Final Forfeiture Orders.