Anambra South Senatorial District aspirant in the Peoples Democratic Party (PDP), Valentine Ozigbo has stated that he was not disqualified by the party Screening Panel.
After the PDP Screening of Anambra State National Assembly aspirants on Wednesday, April 27, 2022, a report purportedly endorsed by the screening committee emerged, claiming that Valentine Ozigbo, former House of Representatives member, Chuma Nzeribe and Obinna Uzoh were disqualified by the panel.
But Ozigbo in statement released later, claimed that the news circulating that he was disqulifed during the screening was fake, adding that he has been issued clearance certificate to contest for the ticket; a copy of which he made available to Prime Business Africa.
He said "I am pleased and honoured to formally inform you that I have received my clearance certificate to contest for the ticket for the Anambra South Senatorial seat in the Peoples Democratic Party's (PDP) primary coming up later this month.
"Let me clarify the fake news circulated in the media space for the past few days. The PDP National Assembly Screening Panel for Anambra never disqualified me. Our party's National Organising Secretary, Capt. Umar Bature had repeatedly assured me of the integrity of the process under his watch, and I thank him for his courage and candour in handling the procedure."
Ozigbo who contested for the position of governor of Anambra State under PDP in the last November election that saw Prof. Soludo win, said he has been cleared and now looking towards the upcoming primaries.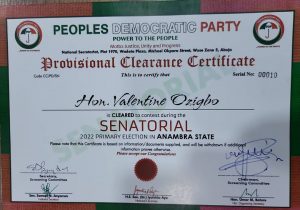 He noted that since resigning his position as the President and Group CEO of Transcorp Plc in 2020 to dedicate the next chapter of his time to public service, resolved to always make the people he serve, his priority.
"No matter what has been thrown my way, I have never lost focus that I am on a quest to serve my people. As such, I listen to my people. I make decisions that I believe put their best interest at heart. That is why I am running for the senatorial seat for Anambra South. The overwhelming yearnings of my people are that I should represent them at the Red Chamber of the National Assembly.
"I have an unshakeable belief that Ndi Anambra deserve the best. We deserve the best in governance; we deserve the best in leadership, and we deserve the best in representation at all levels. This is why I am running for Senate. I believe that I have what it takes to provide high-quality representation and leadership for my people at the National Assembly," Ozigbo enthused.
The said committee report had alleged that the trio (Ozigbo, Nzeribe and Uzoh) were disqulifed for different reasons.
READ ALSO: Why PDP Screening Panel Disqualified Ozigbo, Two Others – Report