The Senior Pastor of Dunamis International Gospel Centre, DIGC, Dr Paul Enenche has endorsed the presidential candidate of the Labour Party, Peter Obi, ahead of the Saturday poll.
"A picture they say is worth a thousand words. This picture was randomly taken by a photographer some time ago but is speaking volumes right now, especially in this season," Pastor Enenche wrote on Monday evening.
"What do you see? What can you hear? Are you in doubt about the way to go? The way of integrity, authenticity, honesty, sincerity, simplicity, humility, capacity, productivity; here is the way to go."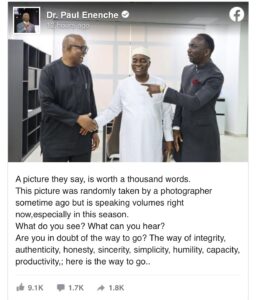 Enenche's endorsement comes days just Apostle Johnson Suleman of the Omega Fire Ministries, showed his support to Peter Obi.
Obi, 61, has emerged as the first third-party candidate to challenge the dominance of Nigeria's ruling All Progressives Congress (APC) party and main opposition Peoples Democratic Party (PDP) which between them have governed since the end of military rule in 1999.
READ ALSO:2023 Presidency: ADC Endorses Peter Obi
On February 25 in Africa's most populous nation, would vote in a successor to President Muhammadu Buhari, who steps down after two terms with Nigeria struggling with widespread insecurity, annual fuel scarcity among other things.
A former southeast Anambra state governor, Obi captured the interest of many young voters with a campaign offering hope for change from the patronage politics and old-guard candidates fielded by the mainstream parties.
Some polls show Obi leading, but analysts say the wealthy businessmen faces a challenge to win over enough voters in the mostly Muslim north, a key block of ballots that helps determine Nigeria's election.
To win the presidency, candidates must garner the most ballots and also 25 percent of the votes in two-thirds of the country's states.
Nigeria is almost equally split between the mostly Muslim north and a predominantly Christian south with three main ethnic groups, Yoruba, Hausa, and Igbo, and hundreds of local languages across the country.
Support Investigative Journalism and Mentorship
Courageous Journalism of Truth,Transparency and Development is in the DNA of Prime Business Africa; By donating as little as N1000 or $1 today, you are helping to keep credible journalism and life-changing information free for all.