One of the most creative German players of Turkish descent, Mesut Ozil on Wednesday announced his retirement from professional football in a career that was laden with trophies, individual accolades and a few downsides.
The left footed star was a member of Germany's World Cup-winning side in 2014 and is calling time on his career at the age of 34.
Ozil retired from the national squad in 2018 amid a political debate in Germany about an influx of migrants and refugees and after a backlash over a photograph taken with Turkish President Tayyip Erdogan, saying he faced "racism and disrespect" over his
Turkish ancestry
.
"I'm announcing my immediate retirement from professional football. I've had the privilege to be a professional football player for almost 17 years now and I feel incredibly thankful for the opportunity," Ozil said in a statement on his social media accounts on Wednesday.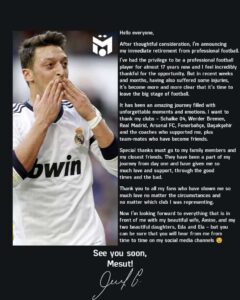 "But in recent weeks and months, having also suffered some injuries, it's become more and more clear that it's time to leave the big stage of football."
Ozil thanked his fans who have "shown him so much love no matter the circumstances and which club I was representing."
"I am German when we win, but I am an immigrant when we lose," Ozil said at the time of his departure from the German national team.
Ozil started his career in Germany with his home town club Schalke before a good spell at Werder Bremen earned him a spot on the German national team.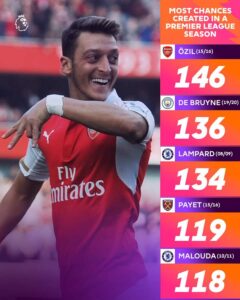 Standout performances for Germany at the 2010 World Cup were followed by a move to Real Madrid. He then had an eight-year stint with Arsenal.
Ozil moved Turkish club Fenerbahce in 2021 after his relationship with Arsenal broke down. He was left out of the Arsenal squad for months before his departure following a rift with manager Mikel Arteta.
Support Investigative Journalism and Mentorship
Courageous Journalism of Truth,Transparency and Development is in the DNA of Prime Business Africa; By donating as little as N1000 or $1 today, you are helping to keep credible journalism and life-changing information free for all.