Eminent Nigerians including Vice President Yemi Osinbajo, former Head of State, Yakubu Gowon, and former President, Goodluck Jonathan, on Friday in Lagos attended a State Funeral Service for Chief Ernest Adegunle Oladeinde Shonekan.
Shonekan served as the Head of Interim National Government from August 26, 1993 to Nov. 17, 1993.
Shonekan died in Lagos on Tuesday January 11 at the age of 85.
Prior to Friday's rites, Service of Songs was held on Tuesday 1st February by the Cathedral Societies Services Arms at the Cathedral Church of Christ, Marina, Lagos.
A Christian wake keep and Night of Tributes was held on Thursday, 3 February at Harbour Point, 4 Wilmot Point Road, Victoria Island, Lagos at 4pm Nigerian time.
Former Head of State Gowon was accompanied by his wife, Victoria, to the service held at the Cathedral Church of Christ, Marina, Lagos.
At the interment and Parade of Honours today (Friday) Boss Mustapha, Secretary to the Government of the Federation, Governors Babajide Sanwo-Olu of Lagos, Dapo Abiodun of Ogun and Godwin Obaseki of Edo States were all present.
Minister of Information and Culture, Lai Mohammed and some other members of the Federal Executive Council, members of the National Assembly, service chiefs, and traditional rulers, among others also attended the service.
Delivering a message titled, `A Life of Two Great Halves Lived in Service: A tribute to Chief Ernest Adegunle Shonekan,'' Osinbajo said the deceased creditably acquitted himself in various spheres of life.
"If ever a man could be said to have lived a life of two equally consequential halves, and in service, that man would be Shonekan.
"And so it transpired that within the first four and a half decades of his life, Chief Shonekan had established himself as one of the nation's foremost corporate technocrats and a figure of renown in the boardrooms of many private companies, multinational and indigenous in which he served as chairman and director.
"It was in this position that he became known as the face of Nigerian free enterprise.
"The UACN under his leadership fully evolved from a trading outfit to a manufacturing colossus with interests in diverse sectors ranging from agriculture and automotive industries to cosmetics, electronics and textiles among many other areas.
"Known in the business community for his personal integrity and reliability, and trusted in the corridors of political power for his counsel and guidance by successive governments, Shonekan had a position in Nigeria that few had before him or have now.''
The vice president stated that Shonekan took up the challenge to steer the nation in one of the most turbulent chapters of its history.
"if your country needs you, leave everything that you are doing to go and help," Osinbajo quoted Shonekan as saying following his interim government reins.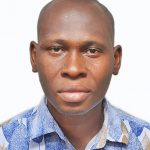 Izuchukwu Okosi is a Nigerian sports and entertainment journalist with two decades of experience in the media industry having begun his media journey in 2002 as an intern at Mundial Sports International (MSI) and Africa Independent Television (AIT), owners of Daar Communications Plc.
In October 2004, Okosi joined Complete Communications Limited, publishers of Complete Sports newspaper and Complete Football magazine as a reporter and later script writer for the Complete Sports studio.
He worked there for 13 years until October 2017.
Okosi also worked various times as Correspondent, Content creator and Editor at Sports Market International Magazine, Opera News, All Nigeria Soccer Media and Iconic Media Watch.
He also undertook freelance writing gigs for some local and international organizations.
Okosi is a member of the Actors Guild of Nigeria (AGN), Association of Movie Producers (AMP), Association of Voiceover Artistes of Nigeria (AVOA), Sports Writers Association of Nigeria (SWAN) and Nigeria Union of Journalists (NUJ).
He has been part of cast in some Nollywood movies and radio dramas including Blood Money 2, Scores To Settle, Dead End 2, Another Campus Tale and Battle Line.
Aside mainstream media and the entertainment industry, he has interests in scouting/unearthing of talents in the sports and creative sectors, exports business and property development.