Labour Party presidential candidate, Mr. Peter Obi has reiterated his call for efforts to boost Nigeria's productive capacity, stressing that such measure would be the only vital way to improve the nation's economy.
Chanting what has become his campaign mantra of "moving Nigeria from consumption to production," Obi said the only way to increase value of the country's currency, Naira, is to increase the volume of exports by boosting production capacity in various sectors.
The Labour Party presidential standard bearer stated this while speaking at a press briefing where the party formally welcomed Mr Valentine Ozigbo, a business mogul and Anambra 2021 governorship candidate of the Peoples Democratic Party (PDP) to Labour Party held at Colonade Hotel, Ikoyi, Lagos on Tuesday, August 23, 2022.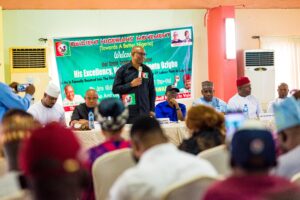 READ ALSO: 2023: Why I'm Proudly Obi-dient – Ozigbo
Nigeria's economy is heavily dependent on importation with the volume of imports consistently outstripping exports over the years. According to data contained in the foreign trade report by the National Bureau of Statistics (NBS) for Q1 2022, Nigeria's imported goods worth N20.84 trillion in the 2020, which is 64 per cent higher than the N12.7 trillion recorded in the previous year, while export value increased by 51 per cent year-on-year to N18.91 trillion. This shows a N1.93 trillion difference.
Speaking on the possibility of raising the productive base of the economy, Obi said there are countries with a similar population like Nigeria who have gone through difficulties, being bankrupt and importing virtually everything, but have today recorded high production capacity due to conscious efforts.
He said some people have been asking questions about what to do to stabilize the naira. "It is very simple, move Nigeria from consumption to production and export goods.
"When we export goods, we get paid in dollars. There is nothing else you can do other than this. You can't print dollars, nobody will give it to you free. What will give you dollars is production. You manufacture goods for exports.
"Nigeria is not a producing country. You cannot say you are a producing country when with a population of over 200 million, the total export of Nigeria is N18 trillion, 900 billion naira in 2021."
He noted that the measure of success is not just about the availability of natural resources but the productive capacity which translates to exports in substantial volume.
"What we use to measure the wealth of a country is not in natural resources, neither is it the space or landmass, it is the productive capacity of the people of that state especially, the youths." If it is space, the Netherlands won't be where they are. It is a country with about 33,000 km2 without water but if you add water they are about 43,000 km2 but their total export last year is over $600 billion out of which agriculture is $120 billion.
"However, Nigeria has 923,000 km2,  Israel is 22,000 km2 of land with 9 million people but their export last year is $59.8 billion."
He said this shows that Nigeria is not a producing country, adding, "let's go out and produce." Obi pointed out that increasing production will help to create more jobs in Nigeria, and urged the youths to believe in hard work.
He said that he and his team are not in for the politics of sharing money but to build a country that the incoming generation would be proud of.
"We have started a movement; ours is no longer the usual party but a movement to take back Nigeria and build a better country. We have a country called Nigeria, but we don't have people who are proud to say I am a Nigerian. We want people to be proud to say I am a Nigerian. We are starting a journey of taking Nigeria back. We are on the route to greatness."
"We want to stop the politics of wasting people's time, politics of dancing and sharing money. We want politics that would make our children live in a better society," he added.
He said their mission requires sacrifice for society to work. This he said needs having competent people serving the country and not going to be business as usual so that the country can be prosperous and secure.
The former governor of Anambra State thanked Ozigbo for joining the Labour party and assured him that he will not regret the decision.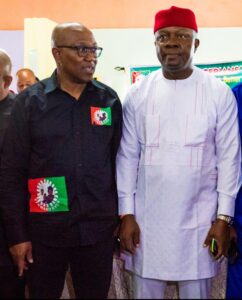 OzigboOzigbo was formally presented to the Labour Party national chairman, Comrade Julius Abure by the Anambra chapter chairman, Ugo Eme. Abure and other party members including the LP governorship candidate in Lagos, Comrade Clement Ojukwu, national secretary, Alhaji Umar Farouk, welcomed Ozigbo into the party.
Ozigbo promised to mobilize his political movement and supporters to work for the success of the party in the 2023 election.