Ambassador Oseloka Obaze says the Obi-dent aircraft used by the Labour Party Campaign has been grounded by the 'powers that be', citing "regulatory reasons."

Obaze, a former Nigerian  diplomat, is the current Deputy Director-General/Campaign Manager for the Labour Party Presidential Campaign Organisation.
He raised the alarm through his verified Twitter handle (#OselokaHObaze) on Wednesday afternoon.

The aircraft with the inscription "Obi-dient" and pictures of Peter Obi and Yusuf Daati, was donated by supporters to facilitate movement of the Labour Party Presidential Campaign team in the course of their campaigns.

The Labour Party presidential candidate, Peter Obi, and other party stakeholders have been using the aircraft in the last one month for their campaign outings across the country.

Obi and other members of the LP campaign team were billed to be at a rally in Ibadan today.

While lamenting the grounding of the aircraft, Obaze urged the supporters to ignore what he called "mischievous rumour" about what happened, affirming that the rally is going on as planned.

"The Obi-dient plane was grounded today by the powers that be "for regulatory reasons" only. Please ignore any mischievous rumour.
"Our massive rally in lbadan is going on as planned," Obaze tweeted on Wednesday, November 23, 2022.


One of the supporters @wuyi_oyetunde who commented on the post, wrote: "We are already on ground sir. The seats are all occupied. In fact, we should have gone for a bigger venue."
Obi in a tweet on Wednesday afternoon, announced the arrival of his campaign team saying: "Today, the OBIdient train has rolled into Oyo. It will be the Mother of all rallies. My team and I are looking forward to a huge rally; the non believers will come to believe. We are taking back Naija."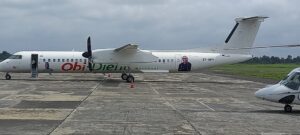 Support Investigative Journalism and Mentorship
Courageous Journalism of Truth,Transparency and Development is in the DNA of Prime Business Africa; By donating as little as N1000 or $1 today, you are helping to keep credible journalism and life-changing information free for all.