Obi-datti team has chronicled the campaign outings of the Labour Party presidential candidate, Mr Peter Obi and his running mate, Dr Yusuf Datti Baba-Ahmed, last week which ended with a what it described as a "charged multiple rally in Akure," on Saturday 14th January, 2023.
The statement from  Diran Onifade, Head of Media, Obi-Datti Presidential Campaign Organisation, reads:
The Obi-Datti Presidential Campaign hit the city of Akure on Saturday 14th January, with a groundbreaking mega- rally showcasing Mr Peter Obi and Dr Yusuf Datti Baba-Ahmed, its Presidential and Vice Presidential candidates, for next month's elections.
As has now become his unique campaign brand, Mr Peter Obi led his Obi-Datti team on a whirwind schedule, which included a Townhall meeting with Students and Youth at the Julie Jane Centre, another Townhall meeting for Women, with Mrs Margaret Obi, who was also on the entourage, a Third Townhall meeting with religious leaders, and a courtesy call on the Deji of Akure Traditional Council, before proceeding to the rally venue.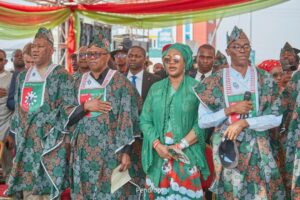 Right from midday, when the team arrived town, in a long convoy of party members and supporters, a carnival atmosphere enveloped Akure, as cheering residents, on the streets and from their houses, hailed the Labour Party candidate, as he moved around the city.
At every stop, Mr Peter Obi reiterated the determination and commitment of himself and Dr Baba-Ahmed to deliver a higher standard of governance, based on rapid development, equity and prudent expenditure, if elected President.
He promised to resolve conclusively the perennial problem of electricity supply, which has kept a significant section of the state in darkness for decades.
Mr Obi said that Nigeria was blessed with enough resources across the Nation, and effective and creative management will provide prosperity, and stop the current rush to leave the country.
He urged everyone in the state to make sure they collect their PVCs and to vote for him and his Vice, assuring them of credible leadership and rapid results.
Speaking to Youth at their Townhall meeting, Dr Datti Baba-Ahmed promised that their administration will introduce structured and rounded quality education, that will provide students with versatililty to better overcome career and entrepreneurial challenges in contemporary society.
At the Palace of The Deji of Akure, Mr Peter Obi told the Traditional Council comprising prominent Obas from across the State, that the coming elections transcended religion or ethnicity, but would be decided on competence, and the capacity to rapidly resolve the country's problems and provide the right governance and development.
Also on the entourage, was the wife of the Presidential Candidate, Mrs Margaret Obi, Dr Yusuf Datti Baba-Ahmed, Labour Party Chairman Dr Julius Abure, Director General Obi-Datti Presidential Campaign Organisation Balogun Akin Osuntokun, National Women's leader Dudu Manuga, and many other Party and Campaign stalwarts.
READ ALSO: Instability: Treat Agitators With 'Carrot & Stick' Approach, Obi Urges Nigerian Govt
As he often does, Mr Peter Obi jettisoned his convoy and marched with his team, through the streets, from the Deji's Palace to the arcade of the Akure City Hall, with cheers from excited crowds, escorted by commercial motorcyclists and other excited residents on foot, chanting 'Obi ! , Obi ! , Obi ! '
As the rally ended in the evening, the enthusiastic crowd were still in place and cheering wildly.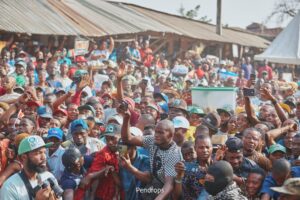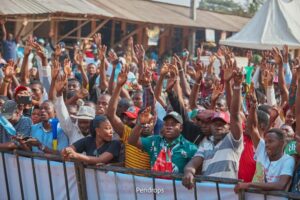 The Ondo rally wrapped up a very busy campaign week for the Obi-Datti Team, which took them through Warri, Isoko, Agbor and Asaba in Delta State, Onitsha in Anambra State , Enugu in Enugu State before today's week finale, with the city wide carnival in Akure.
Residents in Akure expressed their happiness that a new breath of air in Nigerian politics, had been birthed by the Obi-Datti candidacy, and their confidence in their ability to deliver.
The back to back successes of this week's campaign rallies, have further boosted the Presidential bid of Mr Obi and Dr Datti Baba-Ahmed, and showcased their wide acceptability, across all geographical zones and strata of society, putting them closer to success in February.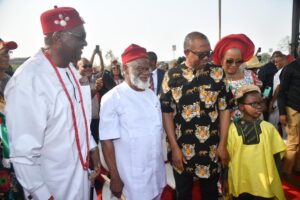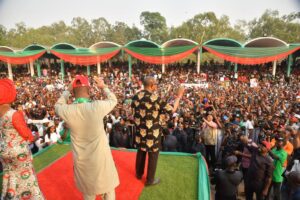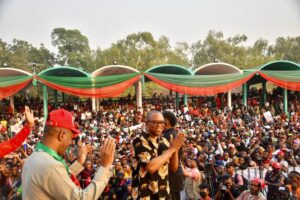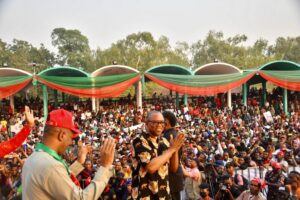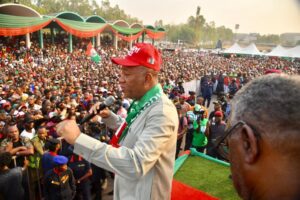 The Campaign rallies continue next (this) week.