By Izuchukwu Okosi
The need to keep identifying and supporting youths in Education, Sports, Art, and Entertainment in order to make them useful to the society has been offered as reason by the decision of Africa Children Talent Discovery Foundation (ACTDF) to embark on a mission of bringing elite sports, political and world leaders to Nigeria.
Last summer, the organisation invited former African Football stars, Kalilou Fadiga and Tresor Lomanu Lua Lua and a few other African stars to Bauchi where they ran a football clinic for young, upcoming football talents.
Ahead of the new year 2022, ACTDF president Noah Dallaji disclosed during the Symposium organised by the Sports Writers Association of Nigeria, SWAN in Abuja said "the foundation is working assiduously to bring the great men of global image and continental pedigree into the country."
Dallaji  according to a release by ACTDF is known as a Sports Philanthropist  and has his tentacles spread across all sport's in Nigeria.
He succefully secured scholarship for some young basketballers in the USA while some young footballers in his foundation are now in Europe with one of them already with English Premier League side Leicester City.
He also supported Assisat Oshoala's girl child football programe, as well as para-soccer athletes.
"In this stadium where we're sitting, in June, we'll have the likes of Cristiano Ronaldo grace the occasion and mentor the young ones.
The visit would be the first for Manchester United's Cristiano Ronaldo.
"We're working so hard on it and we're going to have the meeting by sometime in March in Manchester to see how things can be possible. He is convinced about it, I think he is going to come."
"The likes of David Beckham, and then few other stars from Africa here, our own , Didier Drogba, Samuel Eto'o would be here to mentor these young people."
"If that is the only thing we can do and give back to the society, we'll continue to do it. With your help also. We'll be talking to you more on it very soon, ones we make the progress," Dallaji affirms.
The AfCFTA boss also confirms that former President of United State of America Barrack Obama would be mentoring African youth in @October 2022.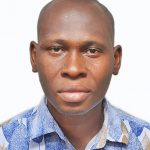 Izuchukwu Okosi is a Nigerian sports and entertainment journalist with two decades of experience in the media industry having begun his media journey in 2002 as an intern at Mundial Sports International (MSI) and Africa Independent Television (AIT), owners of Daar Communications Plc.
In October 2004, Okosi joined Complete Communications Limited, publishers of Complete Sports newspaper and Complete Football magazine as a reporter and later script writer for the Complete Sports studio.
He worked there for 13 years until October 2017.
Okosi also worked various times as Correspondent, Content creator and Editor at Sports Market International Magazine, Opera News, All Nigeria Soccer Media and Iconic Media Watch.
He also undertook freelance writing gigs for some local and international organizations.
Okosi is a member of the Actors Guild of Nigeria (AGN), Association of Movie Producers (AMP), Association of Voiceover Artistes of Nigeria (AVOA), Sports Writers Association of Nigeria (SWAN) and Nigeria Union of Journalists (NUJ).
He has been part of cast in some Nollywood movies and radio dramas including Blood Money 2, Scores To Settle, Dead End 2, Another Campus Tale and Battle Line.
Aside mainstream media and the entertainment industry, he has interests in scouting/unearthing of talents in the sports and creative sectors, exports business and property development.