Nollywood actress Funke Akindele on Monday disclosed that she would be moving on to her next plans in life as the Peoples Democratic Party (PDP) lost its gubernatorial aspirations in last Saturday's polls.
The actress and lawyer cum politician was the running mate of the Lagos State governorship candidate of the Peoples Democratic Party (PDP), Adediran Abdul-Azeez (Jandor).
Akindele who has featured in hordes of movies and television series is most popular for her character in 'Jennifer's Diary' which commands wide followership.

In a tweet posted on her verified Instagram handle on Monday, the actress expressed gratitude to Lagosians who believed in her and the party.
READ ALSO: Hoodlums Chase Funke Akindele Out Of Lagos Market
In a long post, Akindele said:
"It has been an amazing and insightful experience on my journey to the ballot, and I must say, it was an absolute learning curve for me.
"A lot of things have been learned and unlearned. I sincerely do not regret taking this huge step of running for office.
"I, therefore, want to thank the people of Lagos state for believing in me and supporting my decision to run for office. I saw every message of support online and offline, I heard of all the places where people supported me and challenged those who tried to discredit me.
"I remember every warm welcome during our campaign tour and the faith you all showed in me.
"The elections might not have panned out in the way we hoped, but it was an honourable run for us. We fought a good fight indeed as a matter of fact.
The thespian then encouraged those who might not be satisfied by the outcome of the elections as there is hope for a better state and country.
"I also want to encourage all who mean well for the Nation and the state of Lagos not to give up. I understand that some of us are beginning to develop some sort of apathy towards the system, however, if we do not speak, we would never be heard. I'm glad that we could at least speak up.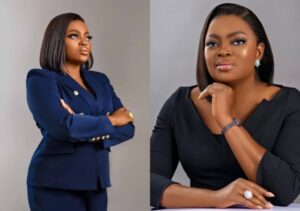 Eyes on next move: Actress Akindele thankful to Lagos voters
"Thank you once again, Lagos, for showing your daughter support. As I consider my next moves in life, I will continue prioritizing the good of the people and the integrity of my position as an advocate for the people.
Eko oni baje!"